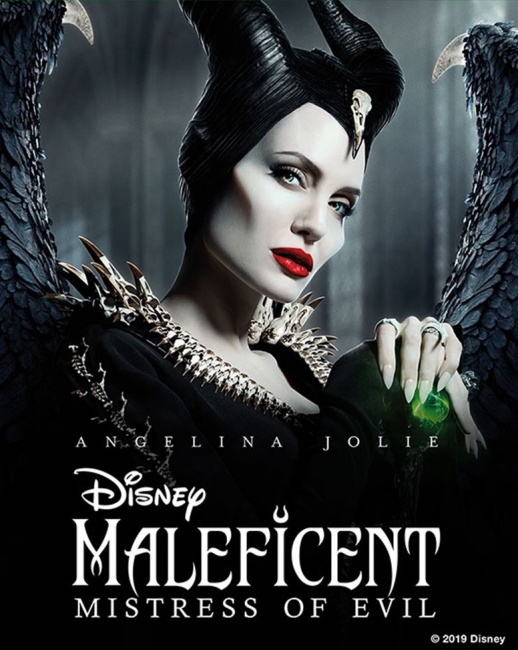 Disney's live-action sequel
Maleficent: Mistress of Evil
took the box office crown from
The Joker
, but opened 45% below its predecessor, and, despite a slightly better-than-expected debut from
Zombieland: Double Tap
, the box office was down 18% from the same frame last year when a remake of
Halloween
debuted with $76.2 million.
It does appear that "sequelitis' has reared its ugly head in the domestic market again as
Maleficent: Mistress of Evil
earned $36 million, just over half as much as the original
Maleficent
brought in back in 2014 ($69.4 million).
Mistress of Evil
did perform better overseas where it brought in $117 million, but with a huge $185 million production cost, the film is clearly in trouble, having posted Disney's lowest opening of the year so far (even the money-losing
Dumbo
debuted with $46 million in March).
The good news for
Maleficent: Mistress of Evil
is that audiences liked it, giving the film an "A" CinemaScore, which provides some hope that it may be able to stay in theaters for some time. Disney's decision to move the film's release date from Q1 2020 to the current pre-Halloween period would appear to be highly questionable in view of the film's poor debut. Opening weekend audiences skewed female (56%) and a bit older with 54% over 25.
Second place went to Todd Phillips'
The Joker
, which dropped just 48% in its third weekend as it added $29.2 million, bringing its domestic total to over $247 million, while its total worldwide gross has now reached $737 million (without an opening in China), making it the #4 DC movie of all time (not adjusting for inflation). With its $60 million production cost,
The Joker
, which is more character study than superhero film, is already the most profitable DC Universe film yet.
While
Maleficent: Mistress of Evil
bowed with just 45% of its predecessor's total, Ruben Fleischer's
Zombieland: Double Tap
actually opened higher ($26.7 million vs. $24.7 million) than the original
Zombieland
back in 2009. Opening weekend audiences for
Double Tap
skewed male (57%) with 44% of the crowd for the R-rated film under 25—and they gave the film a solid (especially for a horror film comedy) "B+" CinemaScore.
The animated
Addams Family
earned $16.5 million in its second weekend to bring its domestic total to $56.8 million, a modest 47% drop from a somewhat less than bodacious debut.
Weekend Box Office (Studio Estimates): October 18-20, 2019

Film

Weekend Gross

Screens

Avg./Screen

Total Gross

Wk#

1

Maleficent: Mistress of Evil

$36,000,000

3,790

$9,499

$36,000,000

1

2

Joker

$29,205,000

4,090

$7,141

$247,229,004

3

3

Zombieland 2: Double Tap

$26,725,000

3,468

$7,706

$26,725,000

1

4

The Addams Family

$16,057,007

4,102

$3,914

$56,816,034

2

5

Gemini Man

$8,500,000

3,642

$2,334

$36,516,543

2

6

Abominable

$3,500,000

2,647

$1,322

$53,915,070

4

7

Downton Abbey

$3,080,000

2,258

$1,364

$88,612,460

5

8

Judy

$2,055,975

1,418

$1,450

$19,018,113

4

9

Hustlers

$2,050,000

1,575

$1,302

$101,871,912

6

10

It: Chapter Two

$1,505,000

1,528

$985

$209,659,518

7
Ang Lee's Gemini Man, which stars Will Smith, continued to falter, dropping 59% from its disappointing debut. Even worse for the film's prospects was its mediocre debut in China ($21 million). Overseas ticket sales were supposed to defray the costs of this 3-D extravaganza, but the extra dimensional format, which has lost its luster here in the States, appears to be losing some of its audience appeal in foreign markets as well.

In the bottom half of the top ten, Downton Abbey has now become Focus Features highest earner ever ($88.6 million), the Jennifer Lopez-starring Hustlers crossed the $100 million mark (against a production cost of just $20 million).

Just outside the top ten was Bong-Joon-ho's Parasite earned $1.25 million from just 33 theaters. Other adult-skewing films in limited release showing great promise include the Robert Patinson/Willem Dafoe black-and-white psychological horror film The Lighthouse, which expands to 500 locations nationwide next week, and Taika Waititi's black comedy JoJo Rabbit, which will expand to over 50 venues next weekend.

Be sure to check back here next weekend to see what happens when Screen Gems releases the police drama Black and Blue into about 2,000 theaters, STX unleashes the horror film Countdown into 2,600 locations, and 101 Studios opens the period drama The Current War into an unreleased number of venues.