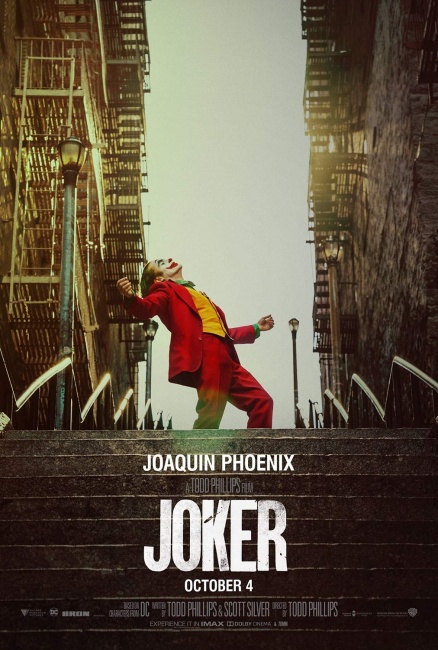 The Clown Prince of Crime regained his throne at the top of the weekend box office charts as
The Joker
narrowly beat out Disney's
Maleficent: Mistress of Evil
in a battle of holdovers during the typically "soft" Halloween weekend, which was down about 3.5% from the same frame a year ago when the remake of
Halloween
topped the charts for the second consecutive weekend.
The Joker
, which also became the highest-grossing R-rated film in global earnings (not adjusted) as it passed
Deadpool
and
Deadpool 2
on Thursday, dropped just 35% as it earned $18.9 million in its fourth frame, driving its domestic total to $277.6 million. A final total of over $300 million appears assured for
The Joker
, which is already arguably the most profitable superhero film ever, given its $60 million cost and current worldwide earnings of $849 million. The question is, will
The Joker
be able to hold up in the face of competition from
Terminator: Dark Fate, Doctor Sleep, 1917, Ford vs. Ferrari
, and other upcoming adult-skewing films?
If
The Joker
amasses over $320 million here in North America, it will become the biggest October release in modern box office history even adjusting for inflation, which is no mean feat—and it could get an additional boost from Academy Award consideration. Joaquin Phoenix is a shoe-in for a "Best Actor" nomination, and one would think that the film's extraordinary box office success, and its unique, genre-expanding status as the "superhero movie as character study," would result in additional Oscar nods.
Disney's live-action sequel
Maleficent: Mistress of Evil
is an expensive ($185 million) would-be blockbuster that many analysts thought would be the #1 October movie. However a disappointing domestic debut last weekend indicated that Disney could have another
Dumbo
-like "bomb" on its hands. Well
Maleficent: Mistress of Evil
managed a better 2nd weekend hold (-50%) than
Dumbo
(-60%), and it could possibly end up at #1 when final box office figures are released on Monday, but
Mistress of Evil,
which brought in an estimated $18.6 million over the Halloween weekend, has earned just $65 million so far here in North America.
The good news for Disney is that
Maleficent: Mistress of Evil's
domestic earnings account for just 22.2% of the film's global earnings, which have now reached $293 million worldwide. So there's a chance that Disney may eventually break even on
Mistress of Evil
, which will no doubt find new life as an attraction on the Disney+ streaming network.
Weekend Box Office (Studio Estimates): October 25-27, 2019

Film

Weekend Gross

Screens

Avg./Screen

Total Gross

Wk#

1

Joker

$18,900,000

3,936

$4,802

$277,583,522

4

2

Maleficent: Mistress of Evil

$18,537,000

3,790

$4,891

$65,412,158

2

3

The Addams Family

$11,705,007

4,102

$2,853

$72,800,705

3

4

Zombieland: Double Tap

$11,600,000

3,468

$3,345

$47,000,273

2

5

Countdown

$9,009,000

2,675

$3,368

$9,009,000

1

6

Black and Blue

$8,325,000

2,062

$4,037

$8,325,000

1

7

Gemini Man

$4,000,000

3,008

$1,330

$43,342,413

3

8

The Lighthouse

$3,080,782

586

$5,257

$3,661,269

2

9

The Current War: Director's Cut

$2,730,200

1,022

$2,671

$2,730,200

1

10

Abominable

$2,000,000

2,196

$911

$56,819,495

5
The animated Addams Family movie and Ruben Fleischer's horror comedy sequel Zombieland: Double Tap end up nearly tied for third. Both films appear to have the potential to become modest hits. The Addams Family, which reportedly cost around $42 million to make, has already earned $83 million globally with a number of markets yet to exploit, and while Zombieland: Double Tap has now fallen behind the earnings of the original Zombieland, Double Tap should still end up north of $70 million here in North America.

Also coming in very close in preliminary numbers were two new releases. The horror film Countdown, about a nurse who downloads an App that tells her she has just 3 days to live, brought in $9 million. Opening weekend audiences were evenly split between the genders and younger, with 78% under 35, and they gave the film a "C+" CinemaScore (a grade that would be deadly for anything other than a horror film). With a cost of just $6.5 million, Countdown won't lose money, but it doesn't look like a breakout hit either.

The R-rated police action thriller Black and Blue, which took in an estimated $8.3 million, may have more potential thanks to its excellent "A+" CinemaScore from opening weekend audiences, which skewed male (54%) and older with 66% over 25.

The black comedy The Lighthouse, which stars Willem Defoe and Robert Patinson, earned $3 million from just 586 theaters, indicating some cult film potential.

Another new release, the historical drama, The Current War: Director's Cut, bombed, earning just $2.7 million from over 1,000 locations. First premiered two years ago by the Weinstein Company, The Current War is a recounting of the dispute between Edison (Benedict Cumberbatch) and Westinghouse (Michael Shannon) over alternating current vs. direct current for the illumination of the Chicago's World Fair of 1893. The film had originally be edited by now disgraced studio boss Harvey Weinstein, and was panned when it debuted at the Toronto Film Festival.

The new Director's Cut, which was edited by director Alfonso Gomez Rejon, unfortunately didn't set off many sparks at the box office, earning a so-so "B" CInemaScore from opening weekend audiences that skewed male (55%) and older (35% over 45).

Be sure to check back here next week to see what happens when a quartet of new films including Terminator: Dark Fate (3,500 theaters), the latest sequel in the Terminator franchise that is seeking to avoid the "dark fate" of its immediate predecessors, plus the computer-animated Artic Dogs (3,600 venues), the biographical film about the Underground Railroad heroine Harriet Tubman, Harriet (2,000 locations), and the high profile adaptation of Jonathan Lethem's crime drama Motherless Brooklyn (1,250 screens).