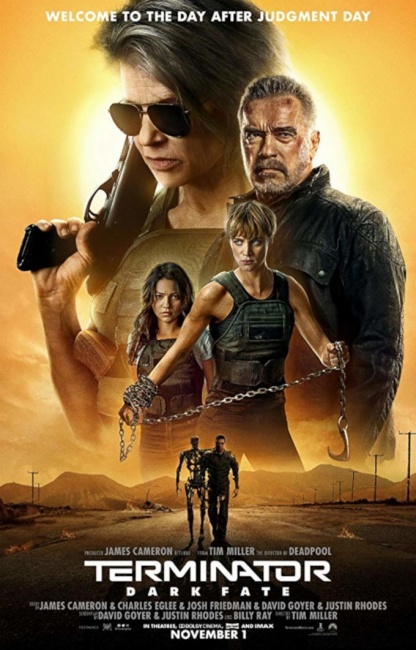 Sometimes you lose, even when you win. Such was the case with this week's box office champ. Even the return to the franchise of James Cameron, who produced
Terminator: Dark Fate
, was unable to save this third attempt in the past ten years to "reboot" the once potent
Terminator
intellectual property, as the ominously-titled
Dark Fate
lived up to its name at the weekend box office with a $29 million debut, far below tracking, which had indicated earnings of $39-44 million.
Audiences may be punishing the R-rated
Dark Fate
because the two previous attempts to reboot the
Terminator
franchise were so bad
. Dark Fate
actually has a decent 69% fresh rating on review aggregator Rotten Tomatoes, and audiences, which skewed male (56%) with 78% under 45, and 33% in the 24-34 age bracket, gave the film a decent "B+" CinemaScore. The problem appears to general audience disinterest in the franchise, something that the studios involved (Fox and Paramount) should have learned from the "dark fates" of the previous
Terminator
reboots, before greenlighting the $185 million R-rated
Dark Fate
.
While some would-be blockbusters that bombed here in North America make up considerable ground overseas, it does not appear that
Dark Fate
will fit that mold
. Dark Fate
opened with just $28 million in China, the world's second biggest market—and its performance in other overseas territories remains far below what a film with its budget should be doing. With the theatrical film market in its current somewhat precarious state, it does not appear that anyone will likely be rebooting the franchise soon (at least not with a blockbuster budget).
Second place went to Todd Phillips'
The Joker
, the undisputed king of the fall box office, which dropped just 28.5% as it earned $13.9 million to bring its domestic total to $299 million. Sometime tomorrow
The Joker
will become the first non-Disney movie of 2019 to earn over $300 million at the domestic box office.
But
The Joker's
North American earnings represent only 32% of its global total, which has now reached $934 million worldwide, which means that the clown prince of evil's biopic will most likely finish its run with over $1 billion, cementing its status as the most lucrative superhero film of all time (given its paltry $60 million cost).
Weekend Box Office (Studio Estimates): November 1-3, 2019

Film

Weekend Gross

Screens

Avg./Screen

Total Gross

Wk#

1

Maleficent: Mistress of Evil

$12,175,000

3,820

$3,187

$84,324,711

3

2

Joker

$13,925,000

3,519

$3,957

$299,611,992

5

3

The Addams Family

$8,499,007

3,607

$2,356

$85,295,007

4

4

Zombieland: Double Tap

$7,350,000

3,337

$2,203

$59,307,162

3

5

Countdown

$5,850,000

2,675

$2,187

$17,766,036

2

6

Black and Blue

$4,050,000

2,062

$1,964

$15,442,478

2

7

Gemini Man

$1,800,000

1,872

$962

$46,834,069

4

8

The Lighthouse

$2,021,410

978

$2,067

$7,000,545

3

9

The Current War: Director's Cut

$1,236,000

1,082

$1,142

$4,981,233

2

10

Abominable

$1,040,000

1,137

$915

$58,450,855

6
Third place went to Disney's live-action fairy tale, Maleficent: Mistress of Evil, which actually won the box office last weekend when the final figures came out (The Joker was topping the charts on Sunday when this column was written). While Mistress of Evil has been a domestic box office disappointment with a 17-day total of $84.3 million, and will likely end its domestic run with a Dumbo-like $112 million or so, it has fared far better overseas, where it has earned 78% of its global total of $383 million. It now appears that Maleficent: Mistress of Evil could end up over $500 million worldwide—maybe not enough to make up for the film's bloated budget, but far more than the film's dismal North American showing would have indicated.

This week's pleasant box office surprise was the $12 million debut of Kasi Lemmons' Harriet Tubman biopic, Harriet, which soared way past the $6-8 million opening, which analysts had predicted. Harriet earned a coveted "A+" CinemaScore from a diverse audience, with African-Americans accounting for 49%, followed by Caucasians (36%), Hispanics (8%), and Asians/Others (6%).

While the audience for historical dramas like Harriet won't reach blockbuster proportions, the film's "A+" CinemaScore should provide strong word-of-mouth, and award-nominations could keep Harriet in theaters (or bring it back for a double dip).

The rest of the top ten includes a bunch of moderately successful films starting with the animated Addams Family, which has now earned $85 million and appears to have enough appeal to make it past the $100 million mark here in North America, which was followed by the horror comedy Zombieland: Double Tap, which should finish on a par with the original Zombieland ($75 millon); the low budget horror film Countdown, and the gritty action thriller Black and Blue.

In addition to Dark Fate and Harriet, there were two other films debuting this week—and they both bombed. Edward Norton's adaptation of Jonathan Lethem's Motherless Brooklyn debuted at #9 with just $3.6 million, and the computer-animated Artic Dogs earned just $3.1 million from nearly 2,900 theaters.

Bubbling under the top ten are two films with Oscar potential, the stylish Korean thriller Parasite, which earned $2.6 million from just 461 theaters, and Taika Waititi's JoJo Rabbit, which brought in $2.4 million from 256 venues.

Be sure to check back here next week to see what happens when four new films open in wide release including Warner Brothers' adaptation of Stephen King's Doctor Sleep, the World War II military drama Midway, Paul Feig's romantic comedy Last Christmas, and the family comedy Playing With Fire.