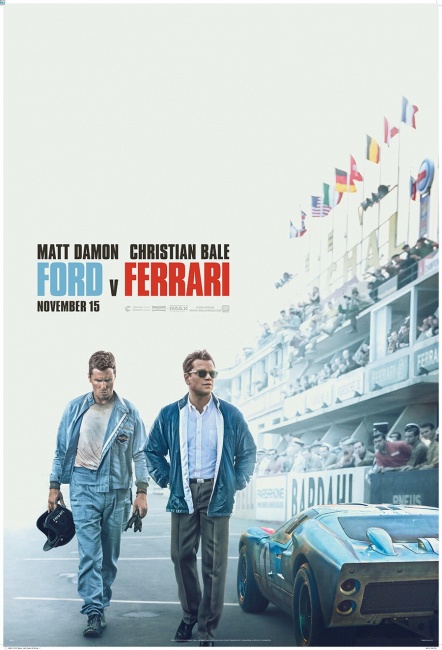 James Mangold's old school, adult-skewing, star-driven racing drama
Ford vs. Ferrari
surpassed expectations and topped the weekend box office with an estimated $31 million, but aside from Todd Phillips'
The Joker
becoming the first R-rated film to top $1 billion, that was about the only good news in a weekend which was down a whopping 43.6% from the same frame a year ago,
when Fantastic Beasts: The Crime of Grindelwald
debuted with $62.2 million.
Ford vs. Ferrari
, which stars Christian Bale and Matt Damon as the two men who helped Ford score an impressive upstart victory at Le Mans in 1966, represents the first film that Disney inherited from Fox that has a chance for real box office success. While the $31 million opening is not so impressive by itself, especially since the movie cost $97 million to make,
Ford vs. Ferrari
earned a coveted "A+" CinemaScore from opening weekend audiences, which, along with its great critical notices (92% positive on review aggregator Rotten Tomatoes), should insure a long run as well as plenty of consideration at Oscar time.
Opening weekend audiences for
Ford vs. Ferrari
skewed heavily male (62%), and older with 80% over 25, and 55% over 35.
Ford vs. Ferrari
also earned $21.4 million from 41 markets for a $52 million global total. When you figure that a movie has to make 2.5 times its production costs to break even these days,
Ford vs. Ferrari's
opening weekend totals are not that impressive, but this is a film that is in it for the long haul, and its target older male demographic doesn't typically rush to the theaters for a film's debut.
Second place went to last week's winner, Roland Emmerich's World War II epic
Midway
, which earned $8.7 million to bring its ten-day domestic total to $35.1 million. Don't be surprised if the order of the top ten changes when final figures are released on Monday, since
Midway
has only a slim lead over the #3 and #4 films.
Right now third place belongs to Elizabeth Banks'
Charlie's Angels
, which basically bombed, earning just $8.6 million. The good news here is that the film only cost about $50 million to make, and it did receive a decent "B+" CinemaScore from opening weekend audiences that skewed heavily female (61%) and a bit older with 55% over 25.
However the two previous attempts to take the 1980s TV jiggle-fest to the big screen (both of which were directed by McG) opened much stronger (with debuts of $40 and $37.5 million respectively back in 2000 and 2003. It's now clear that audiences weren't clamoring for another
Charlie's Angels
16 years after
Charlie's Angels: Full Throttle.
Weekend Box Office (Studio Estimates): November 15-17, 2019

Film

Weekend Gross

Screens

Avg./Screen

Total Gross

Wk#

1

Ford v Ferrari

$31,037,000

3,528

$8,797.34

$31,037,000

1

2

Midway

$8,750,000

3,242

$2,698.95

$35,140,773

2

3

Charlie's Angels

$8,600,000

3,452

$2,491.31

$8,600,000

1

4

Playing with Fire

$8,550,000

3,185

$2,684.46

$25,497,824

2

5

Last Christmas

$6,700,000

3,454

$1,939.78

$22,575,765

2

6

Doctor Sleep

$6,181,000

3,855

$1,603.37

$25,039,159

2

7

The Good Liar

$5,656,000

2,439

$2,318.98

$5,656,000

1

8

Joker

$5,635,000

2,337

$2,411.21

$322,599,593

7

9

Maleficent: Mistress of Evil

$5,247,000

2,549

$2,058.45

$106,040,384

5

10

Harriet

$4,780,000

2,011

$2,376.93

$31,882,990

3

Right on the heels of Midway and Charlie's Angels comes the John Cena-starring Playing With Fire, with an estimated $8.55 million. This kid-friendly fire-fighting epic has now earned $25.5 million, but it will face major competition for its younger demographic with Disney's Frozen II opening this week.

Paul Feig and Emma Thompson's Last Christmas finished in fifth place with $6.7 million. The seasonal comedy/drama now has an uninspiring $22.6 million ten-day total, but comedies can often demonstrate considerable "legs" at this time of the year, so it's a bit early to write off this one.

Warner Bros.' sequel to The Shining, Doctor Sleep tumbled 56% cementing its status as a "bomb." Again this is no star-driven project, and, while Stephen King's It has been a huge hit for Warner Bros., it doesn't appear that horror fans were salivating at the prospect of a sequel to The Shining.

Though contemporary Hollywood could easily change its nickname from "Tinseltown" to "Sequelville," and though there have been plenty of sequel "hits" in 2019 like with properties like Avengers: Endgame, Toy Story 4, etc., there have also been a ton recent sequel failures including Terminator: Dark Fate, Doctor Sleep, and Charlie's Angels.

This week's other new wide release, Bill Condon's The Good Liar, which stars Helen Mirren and Ian McKellen, also underperformed, earning just $5.65 million from almost 2,500 theaters. With mediocre reviews (64% positive on Rotten Tomatoes), and a middling "B" CinemaScore from audiences that skewed female (60%) and really old with 85% over35, The Good Liar looks like yet another disappointment for Warner Bros.

The good news for Warner Bros. remains the performance of Todd Phillips' The Joker, which slipped to #8 in its seventh weekend in theaters as it earned $5.6 million to bring its domestic total to $322.6 million, which represents just about 30% of its 1.017 billion global total. The Joker, which has now passed The Dark Knight's haul (not adjusting for inflation) is the fourth film from the DC Cinematic Universe to surpass $1 billion at the box office.

The Joker is also the first R-rated film to top $1 billion, and only the third film to earn over $1 billion without playing in the world's (for now) second biggest market (The Dark Knight and Pirates of the Caribbean: Dead Man's Chest are the only others to accomplish this feat). And The Joker should make up for a number of Warner Bros. misfires because it is perhaps the most profitable superhero film of all time with Warner Bros. and Roadshow Pictures likely to earn about $600 million in profit from The Clown Prince of Crime's solo outing.

Sometimes we box office analysts tend to write off films too quickly. Case in point Disney's live-action fairy tale sequel, Malificent: Mistress of Evil, which debuted with just $36.9 million here in North America. In spite of its slow start, Mistress of Evil managed to top $100 million here in North America, and has done even better overseas where it has now earned $353 million for a global total $458 million, and it now appears that Mistress of Evil will eventually top $500 million and break even despite its nearly $200 million production cost.

At the other end of "blockbuster" spectrum is Focus Features' Harriet Tubman biopic, Harriet, which has now earned $32 million, and could gain additional life in theaters come Oscar time.

Next week's top spot should belong to Disney's Frozen II, which heads into over 4,200 theaters, while the Tom Hanks-starring Mr. Rogers epic, A Beautiful Day in the Neighborhood opens in 3,100 locations, and the action thriller 21 Bridges debuts in about 2,700 venues.