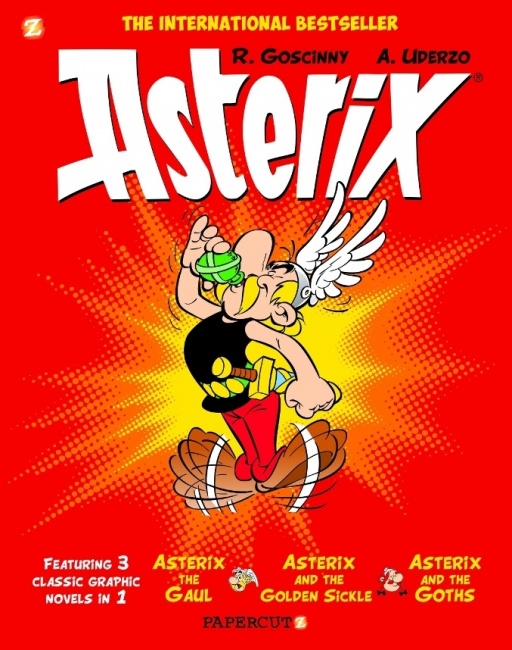 Confessions of a Comic Book Guy is a weekly column by Steve Bennett of Super-Fly Comics and Games in Yellow Springs, Ohio. This week, Bennett confesses his affinity for European comics and analyzes the relevance of TinTin and Asterix comics in America.

I
confessed way back in 2008 (see "
Confessions of a Comic Book Guy -- Does Anyone Know This Robot?
") that my love of world comics comes almost entirely by way of my Grandmother, God Rest Her Soul. She used to go on regular trips overseas and bring comics back home with her. Of course, except for a couple from the UK, I couldn't read any of them, but they were still treasured. Everything she gave me was by definition automatically a treasure, but also because they provided ample evidence of a previously unimaginable concept, that every minute of every day, there were comic books being published all over the world. Which carried with it an unfortunate, nearly unbearable consequence; I would most likely never have either the chance or ability to read even a tiny fraction of them.
Nowadays. when it comes to translated-into-English European comic series in the United States we are indeed lucky, literally, but along with Lucky Luke, there's also Blake & Mortimer, Valerian, Thorgal, Largo Winch, Spirou & Fantasio and many, many others. But for the first forty-odd years of my life, only two series had anything like 'brand name' recognition in America, Tintin and Asterix. Back in the 60's, while American comics were still considered to be camp at best and trash at worst, Tintin and Asterix came from places where the medium was considered "The Ninth Art". In America, comics were dubious pop culture, and in Europe they were actual culture, and for some reason, I've never been sure exactly why both Tintin and Asterix got treated that way here.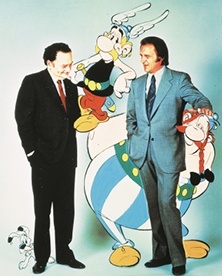 Perhaps, because it featured a kid protagonist, I felt an immediate connection to the adventures of Herge's boy reporter when I first stumbled across animated segments of
Herge's Adventures Of Tintin
on syndicated TV (and later on in the pages of
Children's Digest
). But for whatever reason, I was never that big of writer René Goscinny and artists Albert Uderzo's abbreviated ancient Gaul. It wasn't that I had any problem with its stories or art, and I certainly liked the characters, especially Astrix's super strong supposed sidekick (the term "co-star" seems entirely more appropriate) Obelix perhaps the grandest big, fat guy in all of comic history. Though Obelix, himself, preferred the descriptive "well-covered", a term I really wish I had known back in Junior High; it wouldn't have impressed my oppressors but at least it would have amused me.
Neither property has ever been particularly popular or profitable in this country, at least compared to characters like Superman or Spider-Man, but when it came to prestige (or at the very least brand awareness) Tintin is usually considered the winner. Thanks in large part to the Nelvana animated series and film directed by Steven Spielberg both titled The Adventures of Tintin, there's at least a semi-popular conception of the character. To paraphrase an online commenter, he's "the kid with the floppy quiff and the white dog" (quiff, derived from the Dutch word "kuff", meaning "crest" is apparently what you call his forelock prominent combination pompadour/flattop/mohawk).
While well done, the cartoon wasn't considered a great success and though the 2011 Spielberg film did much better, its producers didn't exert much effort promoting the comics on which it was based. I certainly liked it, enough that I've spent the last eight years wondering if we were ever going to see the promised sequels(see "Confessions Of A Comic Book Guy -- Well, I Liked It"). For those who don't want to read Why Tintin 2 Is Taking So Long To Make, the answer is yeah, apparently, eventually. Meanwhile, there are currently 20 live-action and animated Asterix films, which have been incredibly popular and profitable on a global scale, you've most likely never heard of because they're not in English.
Of course, Asterix's lack of mass mainstream success in America might just be the result of not everything being for everyone, as a Journalist, author, and evangelical pastor Jose de Segovia put it in Asterix holds out,, "Not everyone gets Asterix". And Segovia suggests one of the reasons the comic isn't more popular in the USA is a storyline about open rebellion against the Roman Empire "is not easy for a North-American audience to understand". And back in 2016, Peter Hoskin wrote about why unlike the rest of the world the USA has "remained unmoved" by Goscinny and Uderzo's creation; Can Asterix Finally Conquer the US? His response; "My best guess is Asterix's historical setting".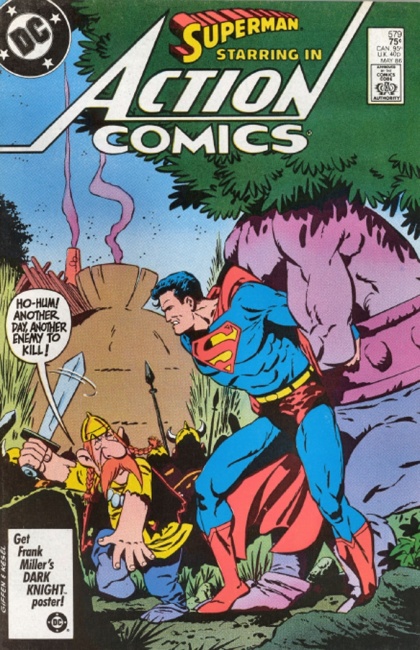 This is possible, though
Asterix
clearly has his fans in America, given the existence of one of the strangest Superman stories ever produced.
Prisoners Of Time
, written by Jean-Marc and Randy Lofficier and drawn by Keith Giffen, appeared in 1986's
Action Comics
Vol. 1 #579 and featured a time-traveling Man of Steel encounters characters who are very, very, very similar to Asterix and Obelix. Unlike the Popeye parody Captain Strong, who made multiple appearances, these doppelgangers appeared only the once.
Or, as I've been saying here since 2005 ("Confessions of a Comic Book Guy--Think Globally, Act Locally"), it could be the Asterix comics themselves, specifically, the lettering. I recognize and respect lettering as an intrinsic, idiosyncratic part of the graphic storytelling process, and realize some will see this as a defilement of the original. But I also can't help but wonder if Tintin and Asterix wouldn't be more popular here if they were translated from English into colloquial American, and then have a more American style of lettering added.
I have to confess 2006 was about the last time I gave Asterix any thought. Until I recently read Papercutz Gets 'Asterix' For U.S and found that not only had Papercutz acquired "U.S. publishing rights" to the series, but these editions would "feature new translations in American English." The polite phrase used in instances like this is usually "you can imagine my surprise" but you really can't, because I myself can just barely accept that somebody else thought this was a good idea.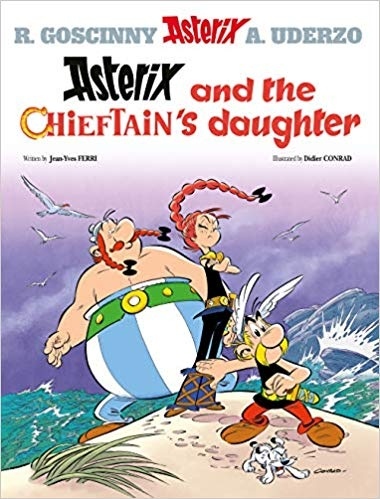 Looking for more details about the deal online instead I found
The Guardian
piece
Meet Adrenaline: Asterix gets first female hero in 60-year history
. In it, I discovered that the year 2019 was the characters the 60th anniversary; something I really should have already known, seeing as how we were both born on the same year. And It seems that I had just missed the October release of
Asterix and the Chieftain's Daughter
, the 38th (and latest) volume of the series written by Jean-Yves Ferri and drawn by Didier Conrad. The story has Asterix and Obelix facing a menace unlike any other they have ever faced before; a teenage girl with attitude. Female characters of any kind have always been few and far between, something it's always had in common with
Tintin
. So, it's good to see the comics creators shake some of the accumulated stodginess off of a strip this old and focus on a character like Adrenaline.
So, finally, will changing the translations work, or, to circle back to Peter Hoskin's question, can Asterix finally conquer America? My best guess is... I haven't a clue, though it does seem kind of unlikely. Still, it does make me want to immediately read the latest volume when the Papercutz' edition of Asterix and the Chieftain's Daughter comes out in May 2020. And I can't imagine that I'm the only one.
The opinions expressed in this column are solely those of the writer, and do not necessarily reflect the views of the editorial staff of ICv2.com.