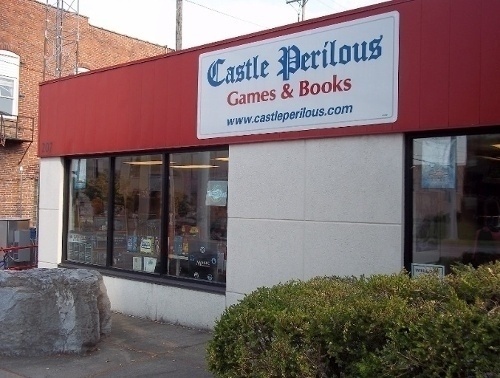 Rolling for Initiative is a weekly column by Scott Thorne, PhD, owner of Castle Perilous Games & Books in Carbondale, Illinois and instructor in marketing at Southeast Missouri State University. This week, Thorne talks Black Friday and whether or not companies will be holding to MAP on the biggest shopping day of the year.
As I noted in last week's column regarding China's Singles Day (see "
Rolling For Initiative -- Just What is Singles Day?
"), Black Friday as a focal point of US consumer culture has diluted over the past decade, with companies rolling out Black Friday "sales" as early as Halloween, turning what was a one day shopping frenzy ( I remember going with a girlfriend to Target on Black Friday some years ago, arriving at about 3 a.m. and seeing a few hundred people already in line before us. Happily, the Target associates brought out hot chocolate and coffee for those waiting in line. Someone could have made a pretty penny by selling hot drinks to the people standing in line in below zero temperatures...) into a month long retail slog.
Retailers or at least shopping malls have started to realize this as a number of them have eliminated opening on Thanksgiving day and remaining open 24 hours until closing Friday night. Doing so pushed payroll up significantly and likely generated enough overtime costs to eliminate any extra profit generated by the overnight sales. For retailers, payroll is both the largest variable expense and the one most likely to get cut when sales go down, so if late night/early morning Black Friday sales do not justify it, payroll is an easy target to reduce costs.
Of course, it being a big sales weekend means that a lot of stores will start running sales in order to clear out merchandise that has sat there for months, if not years (see "
Rolling for Initiative--It's Beginning to Look a Lot Like Christmas
"). Advertising discounts can bring a store into conflict with a publisher if that publisher has a MAP or "Minimum Advertised Price" in place on its products (see "
Rolling for Initiative--Minimum Advertised Pricing, Part 2
"). Asmodee announced a suspension of its MAP policy early this month, with the suspended policy going into effect last Friday and running through Black Friday weekend. This means that retailers stocking Asmodee products are free to price them at whatever price they want AND, more importantly for this purpose, advertise those discounts through mass media. Under a MAP, retailers signing up may still discount Asmodee products to whatever level they want in store, as long as they do not post those prices in such a way that they can be viewed outside of the store confines. Hence no posting sales prices on social media, websites or even such last century media as newspapers and magazines.
I found it interesting that Iello made a point of announcing it would not be lifting MAP for Black Friday weekend. Although they did not make any announcement of any changes, I asked my Games Workshop rep who said that GW, which was one of the earliest companies in the industry to announce a MAP, would not lift its MAP for Black Friday weekend. No other publisher in the Gaming Industry, as far as I know, have announced a suspension of MAP.
Also, it's interesting that Asmodee's announced that it is suspending MAP indefinitely on the
Keyforge: Call of the Archons
set. This likely indicates that after being caught short after the first release of the set, the company went back to press and produced far more of the set than the market demanded. Asmodee already ran a promotion giving a free display of
Call of the Archons
with a preorder of the
Worlds Collide
set, and likely needs to clear more out of the warehouse.
The opinions expressed in this column are solely those of the writer, and do not necessarily reflect the views of the editorial staff of ICv2.com.