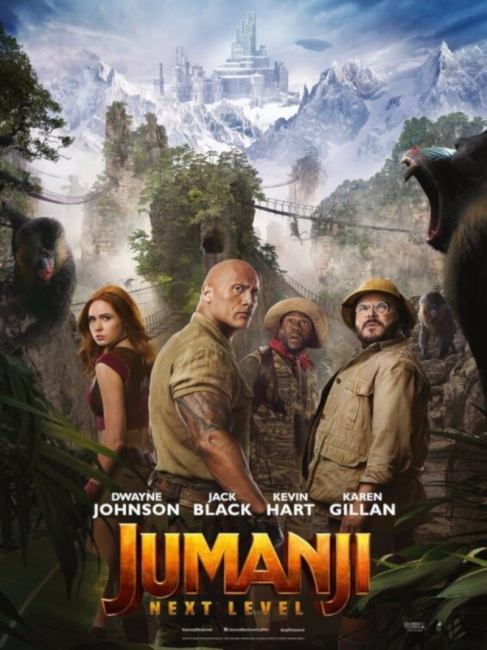 Sony's threequel,
Jumanji: The Next Level
, easily topped the weekend box office with an estimated $60.1 million, which was enough to get the holiday season off and running, even though two other new wide releases, Clint Eastwood's
Richard Jewell
and the slasher remake
Black Christmas
both struggled to find an audience. Largely thanks to the new
Jumanji
film the total of the top ten films was up over 9% from the same frame in 2018 when the animated
Spider-Man: Into the Spider-Verse
opened with $35.4 million.
2017's
Jumanji: Welcome to the Jungle
was a huge hit, earning $404 million domestically-- one of those rare "sequels" that turned a sort of B level 1995 Robin Williams comedy about a board game into an A-list blockbuster franchise by updating the sequel to the video game era with a clever plot involving a group of kids and their vidgame avatars. By upping the action quotient while still keeping the wild comedy and providing plum roles for Dwayne "The Rock" Johnson and Kevin Hart, Sony has managed to flesh out the franchise and bring it to blockbuster level, a status confirmed by
The Next Level's
big debut. Sony lowballed its opening weekend estimate ($35 million), but even accounting for that,
The Next Level's
$60.1 million opening has to be seen as a major win for the studio, especially considering that the leggy 2017
Welcome to the Jungle
opened with just $52.5 million over 5-days.
While
The Next Level
will most likely not manage to match
Welcome to the Jungle's
amazing box office longevity (opening in December of 2017, it was the #1 box office film for the entire month of January, 2018), it has already earned $212.6 million worldwide. Working in
The Next Level's
favor is its solid A- CinemaScore from opening weekend audiences, which skewed male (56%) and younger with just 29% of the crowd over 25 (versus 45% for
Welcome to the Jungle
). Working against
The Next Level's
prospects—the coming onslaught of holiday films.
The Next Level
is already a hit--the question is simply, how big a blockbuster will it be?
Second place went to Disney's animated musical
Frozen II,
which earned $19.2 million to bring its four-week domestic total to $366 million. With $666 million in overseas earnings
Frozen I
I became Disney's sixth billion dollar-earning film of the year so far, and the third Disney Animation film to earn that distinction (
Zootopia
and the original
Frozen
are the other two).
Frozen II
has now reached tenth place on the list of highest-grossing animated films in the domestic market (not adjusting for inflation).
Rian Johnson's stylish murder mystery
Knives Out
continues to be a prime exemplar of that vanishing breed, the star-studded studio programmer, earning $9.2 million to drive its domestic total to almost $80 million, while its worldwide haul is now over $162 million. Though it's not going to become a billion-dollar blockbuster,
Knives Out,
which already has received a Golden Globe "Best Picture" nod, is likely to get some Oscar attention as well.
Weekend Box Office (Studio Estimates): December 13-15, 2019

Film

Weekend Gross

Screens

Avg./Screen

Total Gross

Wk#

1

Jumanji: The Next Level

$60,100,000

4,227

$14,218

$60,100,000

1

2

Frozen II

$19,182,000

4,078

$4,703

$366,542,072

4

3

Knives Out

$9,250,000

3,413

$2,710

$78,927,248

3

4

Richard Jewell

$5,000,000

2,502

$1,998

$5,000,000

1

5

Black Christmas

$4,420,000

2,625

$1,683

$4,420,000

1

6

Ford v Ferrari

$4,143,000

2,895

$1,431

$98,247,794

5

7

Queen & Slim

$3,600,000

1,560

$2,307

$33,174,870

3

8

A Beautiful Day in the Neighborhood

$3,355,000

2,855

$1,175

$49,329,891

4

9

Dark Waters

$2,000,000

2,112

$946

$8,889,174

4

10

21 Bridges

$1,190,000

1,533

$776

$26,361,366

4
Fourth place went to Clint Eastwood's Richard Jewell, which earned just $5 million, the worst opening for an Eastwood directed film since Bronco Billy in 1980 ($3.7 million, which would actually be more than $5 million in today's movie ticket dollars). The "true story" of a man who was falsely accused of a bombing during the Atlanta Olympics, Eastwood's film has created some controversy concerning whether or not the film indicates that the reporter who broke the news that Richard Jewell was a "suspect" got her scoop by sleeping with an FBI agent. Regardless of the effect of the disputed allegations, with this dismal opening it appears that Eastwood's Richard Jewell wouldn't have been able to compete with the other adult-skewing films in the marketplace anyway. Working in Richard Jewell's favor is the excellent "A" CinemaScore that the film received, but its dismal opening makes it hard to consider the film anything but a "box office bomb."

While its indictment of the "rush to judgment" culture of the cable news era (which has only been amplified by social media in our own time) is a valid and important critique of our society, like Todd Haynes equally significant Dark Waters, Eastwood's Richard Jewell may be one of those films that is "rediscovered" and appreciated by future audiences even though it was largely ignored in its own time.

Fifth place went to the Blumhouse horror film Black Christmas, the second remake of a 1974 slasher film about a group of sorority sisters who are stranded on campus during the holidays and have to fight off a serial killer. With a production cost of $5 million, Blumhouse won't lose anything on this movie, but its poor $4.4 million debut (from 2,625 theaters) and its "D+" CinemaScore from opening weekend audiences insure that Black Christmas won't even be a modest hit.

Fifth place went to the Fox (now Disney) racing drama Ford vs. Ferrari, which has now earned $98.25 million here in North America. Other adult-skewing dramas, such as the racially-charged Queen and Slim and the Mr. Rogers-inspired A Beautiful Day in the Neighborhood also continued to perform well enough to keep them in the conversation for possible award nominations.

Next weekend the holiday season begins in earnest as Disney unleashes Star Wars: The Rise of Skeywalker in over 4,200 locations, while the animated Spies in Disguise and the musical Cats each open in about 3,300 theaters.