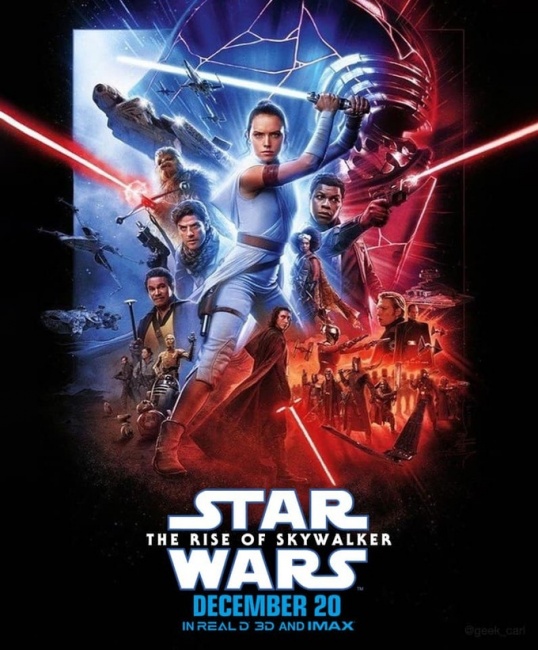 The 2020 box office started out the way 2019 finished with "geek" titles dominating the domestic market, accounting for 5 out of the top six spots led by
Star Wars: Episode IX: The Rise of Skywalker,
which reigned as box office champ for the third weekend in a row, followed by
Jumanji: The Next Level
, the horror movie
The Grudge
, the animated musical
Frozen II
, and the animated adventure
Spies in Disguise
. Overall the box office was up 8.5% from the first weekend in 2019 when
Aquaman
topped the charts with $31 million.
The official figures aren't out yet, but back of the envelope calculations show that
2019
will end up about 4% short of the record box office total of 2018. While the total take of 2019 films did benefit a bit from slightly higher ticket prices, coming close to 2018's record pace was no mean feat considering the inexorable rise of streaming, which is presenting the viewers in North America with a plethora of non-theatrical viewing options. There is no doubt that so-called "geek" movies were overwhelmingly responsible for the solid box office showing in 2019, accounting for all the top ten films in the domestic market (
Avengers: Endgame, The Lion King, The Rise of Skywalker, Toy Story 4, Frozen II, Captain Marvel, Spider-Man: Far From Home, Aladdin, Joker
, and
It: Chapter 2
), and nine out the next ten films as well (
Jumanji: The Next Level, Us, Fast & Furious: Hobbs & Shaw, John Wick: Parabellum, How to Train Your Dragon: The Hidden World, The Secret Life of Pets 2, Pokemon: Detective Pikachu, Shazam
, &
Aquaman
).
With "geek" movies in such a dominant mode it is no surprise that Disney had perhaps the most impressive performance ever by a major American studio. Sometime in the next few
days The Rise of Skywalke
r will give Disney seven billion-dollar (worldwide) films in 2019. The previous high number for any studio was 4, which Disney accomplished in 2016. Disney's worldwide box office haul of $13.1 billion in 2019 is more than the entire North American market's 2019 total (which should come out around 11.38 billion). Disney accounted for the top 8 films in the North American market (though the #7 film,
Spider-Man: Far From Home
was released by Sony—the film was co-produced by Disney's Marvel Studios unit, whose input into the two most recent
Spider-Man
releases has revived the franchise). Warner Bros., which is hoping for a better showing with the release of a second Patty Jenkins
Wonder Woman
film in 2020, took the 8th and 9th spots with its two "demented clown" films,
The Joker
and
It: Chapter 2.
Meanwhile during the first weekend of 2020
Star Wars: Episode IX—The Rise of Skywalker
brought in $33.7 million to take its domestic total to $450.8 million. Overseas the film earned another $50.5 million to bring its total worldwide haul to $918.8 million after seventeen days of release. As previously noted,
The Rise of Skywalker
will soon become Disney's seventh "billion-dollar film released in 2019. Still
The Rise of Skywalker
is still running behind the earnings of its predecessor (
The Last Jedi
), and it is by no means clear that
The Rise of Skywalker
will be able to catch Disney's
The Lion King
($543 million) and claim the second spot on the 2019 domestic chart. It appears that after the spectacular revival of the
Star Wars
by J.J. Abrams'
The Force Awakens
had put the
Star Wars
franchise in a class by itself, Abrams'
The Rise of Skywalker
is behaving much more like a normal highly successful blockbuster film.
Sony's
Jumanji: The Next Level
also won't be able to duplicate the stellar performance of its predecessor, but it is still doing extremely well with a current domestic total of $236.2 million and a worldwide haul of $610 million. It is too early to say how close
The Next Level
will get to its predecesso , but with just a 25% drop-off this past weekend,
The Next Level
is demonstrating great "legs" so far.

The first wide release of 2020 also belongs to Sony. The first weekend of January has become a now traditional launching spot for horror films—and Sony's "remake" of The Grudge did better than expected, earning $11.3 million, but that just might be a "temporary" success, since The Grudge became on the 20th film to receive an "F" CinemaScore from opening weekend audiences. As readers of this column will note, horror movie fans are tough graders, and a low CinemaScore (like a "D" or a "C-") that would be enough to sink films in other genres doesn't necessarily spell doom for a horror film. The last horror film to earn an "F" was the 2012 Paramount release The Devil Inside, which nonetheless earned $53.3 million domestic and $101 million worldwide, so even an "F" CinemaScore and a lowly 15% positive rating on review aggregator Rotten Tomatoes might not spell total disaster for The Grudge.

Close behind was Disney's Frozen II, which earned $11.291 million in its seventh week in theaters, driving its domestic total to $449.9 million, while overseas it took in $42.4 million to drive its worldwide total to $1.325 billion, the highest total ever for an animated film (not adjusting for inflation—and with Disney refusing to classify its 2019 remake of The Lion King, which earned $1.657 billion, as an animated film).

Disney is also releasing the animated Spies in Disguise, which earned $10.1 million to bring its ten-day total to $46.7 million. It's still hard to predict how Spies in Disguise will fare over the coming weeks as other competitors for its youthful target demo like Frozen II and Jumanji: The Next Level play out their runs.

Be sure to check back here next week as competition starts to heat up with the release of two new films, the science fiction/horror film Underwater, and Paramount's Like a Boss, though two other films that are going wide, Sam Mendes' critically-acclaimed, single-shot, World War I film 1917, and Warner Bros.' civil rights drama Just Mercy, which has received an "A+" CinemaScore in limited release, might well have a bigger impact on the box office.