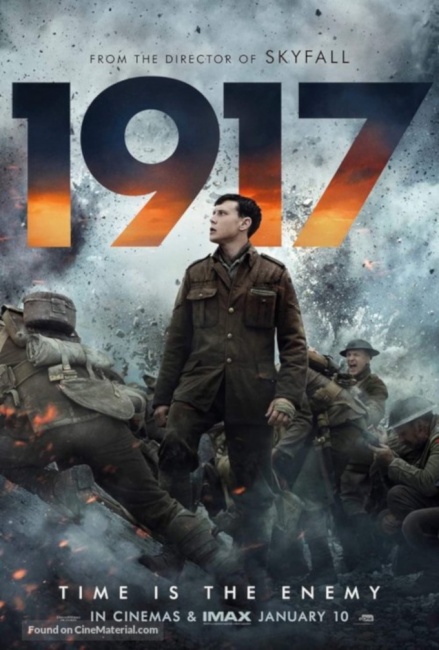 Sam Mendes' period war drama
1917
easily took the weekend box office crown with a far-better-than-expected $36.5 million 3-day total as it expanded from 11 theaters to almost 3,500 on the weekend after the film had won two key awards ("Best Motion Picture" & "Best Director") at the Golden Globes. While this weekend's two new wide releases, the R-rated comedy
Like a Boss
, and the sci-fi horror film
Underwater
both underperformed, led by 1917 and a strong group of holdovers, the total of the top 10 films was up over 17% from the same weekend a year ago when
The Upside
debuted with $20.355 million.
1917, which was filmed so as to appear to be one continuous shot, is a breathless, real-time saga of two soldiers racing through the hell-like battlefield of World War I's Western Front to deliver a message that will save a battalion from making a suicidal attack. Though it's been over 100 years since the conclusion of World War I, and there is little doubt that the first "war to end all wars," was the worst of the 20th Century's wars for those who fought in it (poison gas, trench warfare, massive artillery bombardments, etc.), WWI, with its colorful airplanes and massive troop movements, has become a favorite of modern war gamers, and there is no reason to doubt that Mendes' breathless epic won't inspire more interest in the era.
1917 could easily pick up a number of Oscar nominations on Monday, which could help keep its momentum in theaters, as will its solid "A-" CinemaScore from audiences, which skewed male and a bit older, though The Numbers reports that a solid 47% of the crowd was between 18 and 34.. 1917 has now made over $60 million worldwide with many territories still to open—and with a cost of $90 million, it appears that it will become a much needed winner for Universal.
After three weeks at #1, Star Wars: Episode IX—The Rise of Skywalker slipped to #2 as it earned $15 million to bring its domestic total to $478.2 million. The Rise of Skywalker also brought in $24.2 million overseas to bring its worldwide total to over $989 million. Sometime this week it will pass the $1 billion mark, giving Disney 7 "billion dollar" releases in 2019, a record that may stand for some time. Can one actually speak of a "billion-dollar film" as a "disappointment?" It's hard to see how, especially when said film is likely to earn over $500 million in the North American market alone—yet there is no denying that The Rise of Skywalker is far less robust in its appeal than The Force Awakens or even The Last Jedi. Will there be a hangover when Disney releases its next major Star Wars film in 2022? Only time will tell.
Look for Sony's Jumanji: The Next Level to overtake The Rise of Skywalker's weekend total in the coming weeks. Sony's clever threequel is demonstrating better "legs" than The Rise of Skywalker, though it stands zero chance of ever matching the final Skywalker film's massive totals. Still The Next Level has earned $257.2 million domestically, and has a current worldwide total of $671 million, which means another Jumanji film is a near certainty.
The critics hated the Tiffany Haddish/Rose Byrne/Selma Hayek R-rated comedy Like a Boss, giving it just a 21% positive rating on review aggregator Rotten Tomatoes. While Like a Boss only cost about $30 million to produce, it is off to a poor start, and its "B" CinemaScore from audiences that skewed female (60%) and younger with 64% of the crowd between 18 and 34 according to The Numbers. Like a Boss was virtually tied with Warner Bros. civil rights legal drama Just Mercy, which earned a coveted "A+" CinemaScore in limited release, and which should have solid "legs," particularly if it can get any major awards buzz.
This week's other new wide release, the science fiction/horror film Underwater, which stars Kristen Stewart, may not ever make it back up for air. With mixed reviews (53% positive on review aggregator Rotten Tomatoes) and a "C" CInemaScore, which is not all that bad for a horror movie, but not great either, Underwater may not catch on in theaters, though it does have some cult potential in the aftermarket.
Be sure and check back here next weekend when two new wide releases open, Sony's cop drama/comedy Bad Boys For Life, which stars Will Smith and Martin Lawrence, and Universal's pricy Doolittle, which stars Robert Downey, Jr.