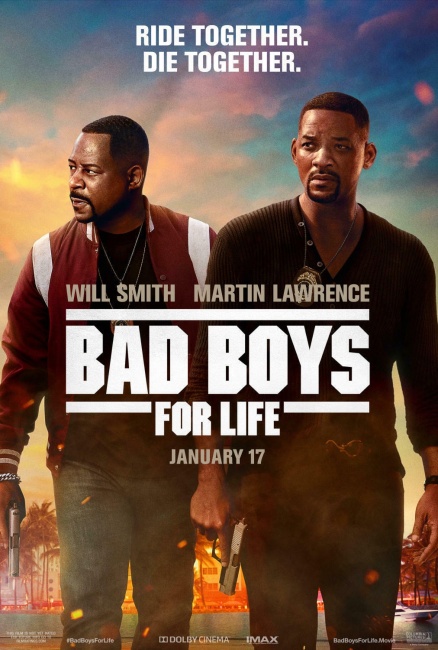 in franchise happy Hollywood it was a rare "battle of the stars" at the box office this weekend with new wide releases featuring former Iron Man Robert Downey, Jr. and ex-Man in Black Will Smith going head-to-head. Surprisingly, it was Smith, whose pricey
Gemini Man
bombed last summer, who came out on top as the reboot/sequel
Bad Boys For Life
, which co-stars Martin Lawrence, set a January opening record with an estimated $59.2 million over the first three days of the Martin Luther King holiday, just about twice as much as Downey's
Dolittle
earned.
The box office's 2020 winning streak continued with the total of the top 10 films more than 24% higher than the same frame last year when M. Night Shyamalan's Glass opened with $40.2 million.
Bad Boys for Life opened well ahead of expectations, and could be the first breakout hit of 2020 if it can survive competition from Guy Ritchie's The Gentlemen, which debuts this coming weekend. Bad Boys for Life is the third film in the Bad Boys series (the first two were directed by Michael Bay), and comes 17 years after Bad Boys 2. Like its predecessor, Bad Boys 3 is an R-rated action comedy—and unlike the Terminator franchise, it appears that audiences have welcomed a Bad Boys revival (Bad Boys 4 is already in the planning stages). Though it did post the largest January debut for a new film, Bad Boys 3 still trails Clint Eastwood's American Sniper, which opened in limited release, but opened wide on this same weekend in 2015 with a January record $89.2 million.
With a solid 76% positive rating on Rotten Tomatoes and an "A" CinemaScore from opening weekend audiences, which skewed male (56%) and younger (for such a vintage property, with 58% under 35 according to PostTrak), Bad Boys 3 needs to make its hay in a hurry before Birds of Prey opens in two weeks.
If Bad Boys 3 started out as a roaring success, then Downey's Dr. Dolittle adaptation, even though it outperformed expectations and overcame horrible reviews (currently it is just 19% positive on Rotten Tomatoes), is in trouble in spite of Dolittle's estimated $22.5 million debut. The problem is Dolittle's $175 million cost, which basically means that, with its mediocre North American debut, will have to do strong business overseas just to avoid "bomb" status. Audiences, which skewed slightly female (51%) and younger (as befitting a kid's lit adaptation with 57% under 25), gave Dolittle a "B" CinemaScore—not a great grade, but much better than the reviews would have indicated.
Nearly tied with Dolittle was Sam Mendes' World War I epic 1917, which earned $22.1 million for the 3-day weekend and should finish the frame with more than $80 million after ten days of wide release.
Jumanji: The Next Level continues to demonstrate strong legs (though not in a class with its extraordinary predecessor) as it earned $9.6 million to bring its domestic total to $270.5 million. A finish in the domestic market in the neighborhood of $300 million appears to be likely, and the film has already earned a worldwide total of $709 million.
Star Wars: Episode IX: The Rise of Skywalker brought in $8.4 million to bring its domestic total to $492 million. By this time next week it should be over $500 million, but in spite of that huge number, it still emits an odor of franchise decay. It remains well behind The Last Jedi in spite of the fact that The Last Jedi faced much stiffer competition during its holiday run in 2017, while The Rise of Skywalker only had to deal with one other holiday "hit" Jumanji: The Next Level (which remains well behind 2017's Jumanji: Welcome to the Jungle, which earned $404 million here in North America opposite The Last Jedi).
In limited release in just 486 theaters, Makoto Shinkai's anime feature, Weathering With You, which earned over $100 million in Japan (making it the 18th highest-grossing film in Japanese box office history—not adjusted), opened on Wednesday and brought in $2 million over its first two days, and should be over $5 million by the end of the 4-day holiday frame. With a 94% positive rating on Rotten Tomatoes and solid, if not spectacular box office, Weathering With You might be able to stick around for a few more weeks—and anime fans would be well-served if they took advantage of the opportunity to see the film if it is available in their cities.
Next week will see the wide release of two new films, Guy Ritchie's R-rated action/crime/black comedy The Gentlemen, which will go head-to-head with Bad Boys For Life, and Universal's horror film The Turning, which is a modern adaptation of Henry James' The Turn of the Screw.