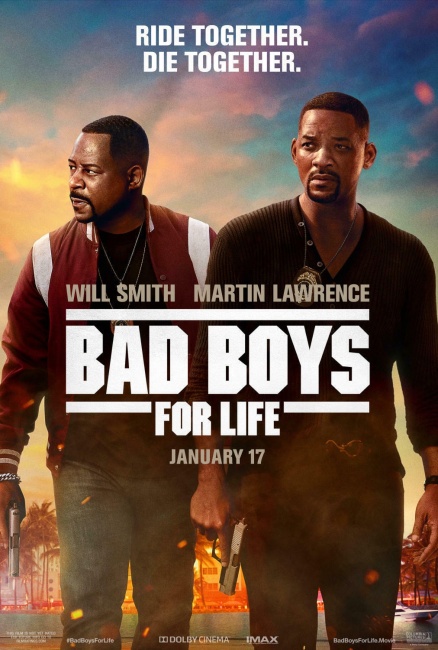 The R-rated action/comedy
Bad Boys For Life
took the box office crown for the third straight time with an estimated $17.7 million. Super Bowl weekend is one of the worst of the year for movie-going, and so is the entire month of January for that matter, so it's fitting that this year's January breakout film breathes some life into the box office at the end of the month.
Bad Boys'
success has largely powered the total of the top films to year-over-year wins during the past two sessions and this week is no exception with another 29% gain over the same frame last year when M. Knight Shyamalan's
Glass
was on top for its third straight week with just $9.5 million.
Bad Boys for Life has earned $148 million, which makes it the highest-grossing "new" January film in modern box office history (not adjusted) as it passed Paul Blart, Mall Cop ($147 million) and Taken ($145 million). Sony's Will Smith/Martin Lawrence buddy film has a decent shot at $177 million, which is the inflation-adjusted Paul Blart total—and Bad Boys is, like its 2003 predecessor, doing almost exactly as well overseas (49.1%) as it is here (50.9%). Bad Boys for Life will face direct competition next weekend from Birds of Prey, but this action comedy has already had a big effect on the box office, and should be able to hang around in the top ten for at least a few more weeks.
Second and third place belong to two Universal films, one is a surprise hit, and the other is a "bomb" that is almost certain to finish well in the red. The hit is Sam Mendes-directed 1917, a WWI military drama filmed as to appear to be one continuous shot, which continues to rack up awards and nominations as its domestic box office total (now $119.2 million) grows to levels well above that achieved by most modern period dramas. The "bomb" is the Robert Downey, Jr.—starring Dolittle, which cost a reported $175 million to make, and which has in 17 days, earned just $55.2 million here in North America.
The one movie genre that appears to thrive in the fallow January ground is the horror movie—at least in the past. Gretel & Hansel is the fourth horror release of 2020 so far, and there isn't even a modest hit amongst them. Gretel & Hansel, a dark fantasy based on the Brothers Grimm tale, opened below expectations with just an estimated $6 million. The film only cost $6 million to produce, so it won't lose money, but with a "C-" CinemaScore and only a 20% positive audience rating on Rotten Tomatoes, the odds are great that Gretel & Hansel won't be that breakout horror hit either.
Guy Ritchie's The Gentlemen dropped just 43.6% from its modest opening as it earned an estimated $6 million to bring its North American total to $20.4 million, while Jumanji: The Next Level also added $6 million to bring its domestic total to $291 million, and Star Wars: Episode IX—The Rise of Skywalker brought in $3.2 million to bring its North American total to $507 million.
Rounding out the top ten was another new film, the Blake Lively-starring action drama The Rhythm Section, which earned just $2.8 million from 3,049 locations, the worst showing ever for a film opening in more than 3,000 locations. The Rhythm Section, which was originally set to be released in February of 2019, received a "C+" CinemaScore from opening weekend audiences, which should seal its fate.
Makoto Shinkai's anime feature Weathering With You lost over half of its theaters (it is now in 224) as it added $405,000 to bring its North American total to $7.27 million, a record total for distributor GKIDS.
Be sure to check back here next weekend to see what happens with the debut of the first "big" movie of 2020, the DC Comics-based Birds of Prey in over 4,100 locations.