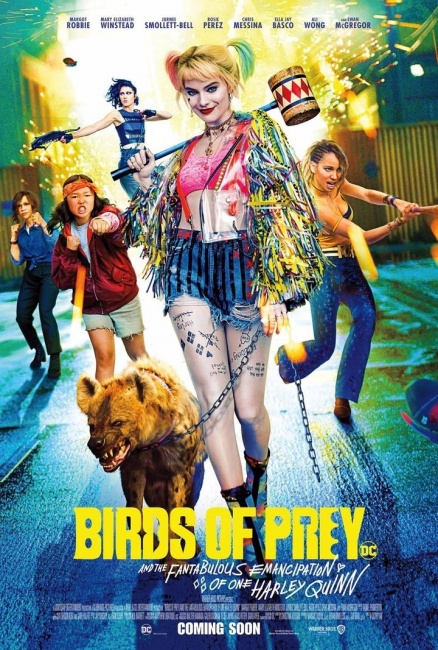 Despite solid reviews, reasonably good grades from opening weekend audiences. and one of the widest releases ever for an R-rated film, Warner Bros.' latest DC Comics adaptation,
Birds of Prey
won what was at best a Pyrrhic Victory at the weekend box office, debuting with just $33.25 million, at least $20 million behind the expectations of most box office analysts. The shortfall at the top of the charts ended a streak of year-over-year box office wins with the total of this weekend's top ten 14.7% below that of the same weekend in 2019 when
The LEGO Movie 2
opened with $34.1 million.
Cathy Yan directed Birds of Prey, which is a spin-off of the PG-13-rated Suicide Squad, which opened in 2016 with $133 million (and also featured Will Smith as Deadshot as well as Margot Robbie as Harley Quinn, plus appearances by Jared Leto as The Joker and Ben Affleck as Batman). Perhaps Warner Bros. would have been better off had the studio put Harley Quinn's name in the main title instead of Birds of Prey, rather than consigning it to the film's risibly anachronistic subtitle "The Fantabulous Emancipation of One Harley Quinn." Birds of Prey's $33.25 million opening was far behind that of DC's weakest-debuting superhero film of recent years (Shazam's $55 million bow), and the worst debut for a DC-based film since Jonah Hex's disastrous $5.4 million opening weekend in 2010.
Yes there were problems with Birds of Prey. John Wick helmer Chad Stahelski was brought in to punch up the film's action scenes after the first cut of the film underwhelmed the Warner Bros.' studio brass, but Birds of Prey does have a solid 81% positive rating on review aggregator Rotten Tomatoes, and the film received an OK "B+" CinemaScore from opening weekend audiences. Younger viewers liked the film more, which brings up the whole question of whether or not the studio should have gone for a "PG-13" rating instead of an "R." Of course R-rated superhero films like the Deadpool movies have done well, but right now there is plenty of R-rated competition at the box office, notably the Will Smith-starring Bad Boys for Life, which has become the Q1 breakout hit in the domestic market. Right now Warner Bros. is still planning to make next year's sequel The Suicide Squad an R-rated film—will what is happening to Birds of Prey make the studio change its mind?
While it is off to a poor start, good reviews and word-of-mouth could still keep Birds of Prey from becoming yet another major disappointment for Warner Bros., which had just one breakout hit in 2019, Todd Phillips' The Joker. According to PostTrak, opening weekend audiences for Birds of Prey skewed male (53%) and a bit older with 73% of the crowd over 25 (not unusual for an R-rated movie). Birds of Prey's main hope is that it can shake off the disappointing impression left by its lackluster debut and develop the kind of "legs" that made the DC-based Wonder Woman a big hit.
Right now it doesn't appear that the overseas market will save Birds of Prey. The film debuted in 78 markets, including all the major ones except Japan (March 20), and China, where it is unlikely to get a release thanks to its "R" rating—and it earned just $48 million. Foreign markets are about to become a whole lot trickier to forecast until the effect of the spreading Coronavirus, which has already had an effect on theater-going in Asia (BoP seriously underperformed in South Korea for example, earning just $1.9 million), runs its course.
While it's too early to write off Birds of Prey, how the film does over the upcoming Presidents' Day holiday should go a long way toward determining its fate. In fact a good case could be made that Warner Bros. might have been better off to wait and debut Birds of Prey over the Presidents' Day frame, which served as the launching pad for Marvel's hugely successful Black Panther in 2018.
The fact that this is the "Oscars" weekend might also have hurt Birds of Prey, since a number of holdovers posted tiny week-to-week drops led by "Best Picture" contender 1917, which slipped just 5.2% as it brought in $9 million to bring its domestic total to $132.5 million, and Greta Gerwig's Little Women, which dropped just 24.4%.
But it wasn't just Oscar hopefuls that flourished at the box office in the face of competition from Birds of Prey. 2020's first breakout hit, Bad Boys for Life, fell just 32.1% in its fourth frame as it added $12 million to bring its domestic total to $166.3 million, and the kid-friendly Dolittle (-12.8%), Jumanji: The Next Level (-7.8%), and even Star Wars: Episode IX (-30.7%) also posted strong holds.
Dropping to #25, Makoto Shinkai's anime feature Weathering With You is now down to just over 100 theaters, but it has earned a record $7.6 million, the highest total yet achieved by distributor GKIDs.
Next weekend begins on Valentine's Day and includes a Monday holiday (President's Day)—and there will be plenty of new films opening, including Universal's romantic drama The Photograph, Blumhouse's horror film Fantasy Island, Paramount's videogame-based Sonic the Hedgehog (the weekend's widest release at over 4,100 locations), and the Will Ferrell/Julia Louis Dreyfuss comedy, Downhill, a remake of a 2014 Swedish film.