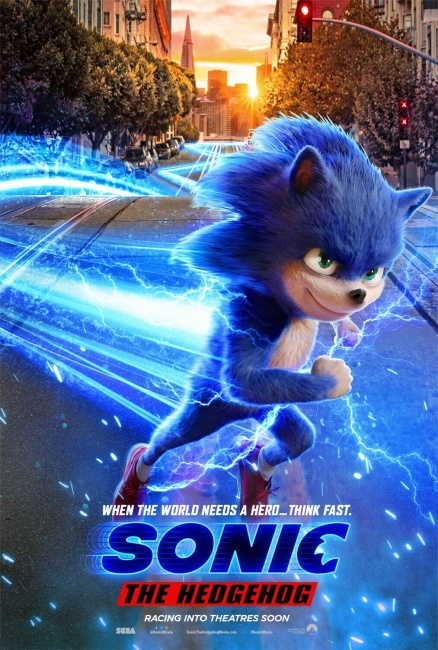 In a rare battle between two films with computer-generated lead characters, the live action/animated hybrid videogame adaptation
Sonic the Hedgehog
narrowly eclipsed the new adaptation of Jack London's
Call of the Wild
to win the box office crown for the second week in a row. However, continuing a trend that has been apparent since the January hit
Bad Boys for Life
began to fade, the total of the top 10 films was down 21% from the same frame a year ago when the fully animated
How to Train Your Dragon: The Hidden World
debuted with $55 million.
Sonic the Hedgehog dropped 55% from its holiday weekend debut, but still added $26.5 million to bring its domestic total to $106.7 million. With $97 million earned overseas, Sonic's total has now passed $200 million worldwide. While videogame-based films have never exactly set the box office on fire, Sonic is already in the genre's top echelon as far as domestic earnings go. It has a good chance to pass Detective Pikachu's domestic record of $144 million, though it won't likely come close to Tomb Raiders' adjusted total of $211 million (based on $131 million in 2001 dollars).
The Call of the Wild, which stars Harrison Ford and a CGI canine companion, is another film that Disney inherited from Fox, and it performed above analysts' expectations, earning $24.8 million as well as a solid "A-" CinemaScore from audiences (and a 90% audience rating on Rotten Tomatoes, where the critics came in a 64% positive). This would have been a solid start for most literary adaptations, but this version of Call of the Wild cost a whopping $135 million to make so its financial prospects are still pretty dire, especially since it earned just $14.5 million overseas, where it launched in 40 different markets.
So far the Disney acquisition of Fox has not produced a major box office winner. Yes Ford vs. Ferrari did $225 million worldwide on a $98 million budget, but that is barely breaking even, and there's not much in the pipeline with blockbuster potential until Avatar 2, which is currently slated for release in December of 2021. The New Mutants movie, which was supposed to be released way back in 2017, is due in April—but that could turn out to be 2020's second disappointing superhero release after Warner Bros.' Birds of Prey, and the only other Fox project with obvious potential due out this year is the science fiction action comedy Free Guy, which stars Ryan Reynolds and is slated for release on July 3.
Warner Bros.' Suicide Squad spin-off, Birds of Prey: The Fantabulous Emancipation of Harley Quinn, dropped 59.2% in its third weekend as it earned $7 million to bring its 17-day domestic total to $72.5 million. For a film with a reported $82 million production cost this is a poor showing—especially for a superhero film that received the benefit of a solid promotional campaign from the team at Warners, which is one of Hollywood's best.
Birds of Prey will face direct completion for its audience from the buzzy horror film adaptation of The Invisible Man, which debuts next weekend, so even making it to $100 million domestic is problematic. The R-rated Birds of Prey's poor showing should have studio brass reconsidering the "R" rating for the Suicide Squad sequel, which is being written and directed by James Gunn, and is currently slated to debut in August of 2021.
The 'scary doll' horror film Brahm: The Boy II looks like another2020 lackluster horror release. With just an 11% positive score on review aggregator Rotten Tomatoes, and a "C-" CinemaScore from opening weekend audiences, this sequel looks like it will be overwhelmed next weekend by the release of The Invisible Man. While there have been plenty of horror films released so far in 2020, we are still waiting for something to break out like M. Night Shyamalan's Split or Glass, or Jordan Peele's Get Out or Us.
January's breakout hit, the action comedy Bad Boys for Life remained in fifth place in its sixth weekend of release as it earned $5.9 million to bring its domestic total to $191.2 million. This Will Smith/Martin Lawrence buddy film will likely be the first 2020 film to make it over $200 million in the domestic market. While it is now the top January release in modern box office history (using unadjusted totals), it will soon pass The Hand That Rocks the Cradle ($88 million in January of 1992, which comes out to $193 million adjusted), though it will never catch Robert Altman's M.A.S.H., which earned $81 million in 1971, which translates to $503 million today)—and countless other films from Hollywood's golden era when movie audiences were bigger and ticket prices much smaller.
Two films both made it over $200 million worldwide this weekend. The Robert Downey Jr.—starring Dolittle has now made $204 million across the globe, but the film's bloated $135 million production budget, means that it is still a big loser. Such is not the case for Greta Gerwig's Little Women, which was produced for $40 million and also made it past the $200 million barrier (worldwide), which in its case means a tidy profit.
Be sure to check back here next weekend to see what happens when Universal opens its new horror-tinged adaptation of The Invisible Man in more than 3,500 theaters.