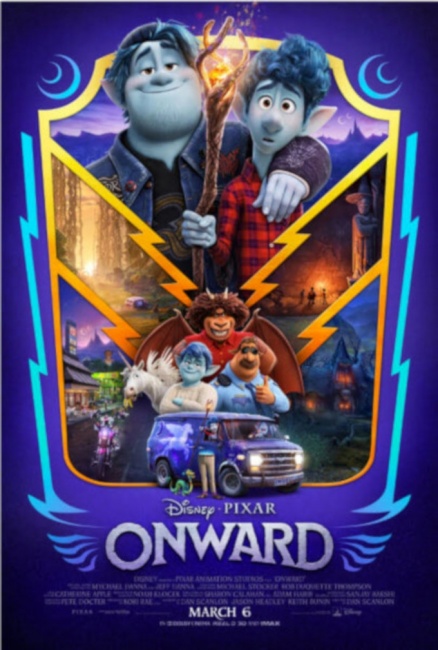 Pixar's
Onward
topped the weekend box office with an estimated $40 million, which leaves only a tiny chance at financial success for the animated film with a reported cost of around $200 million. Although most of the holdovers suffered modest declines, there was never a chance of coming close to matching the box office totals from weekend #10 last year when Marvel Studios'
Captain Marvel
opened with $153.4 million, so it's no surprise that the total of the top ten films was down a whopping 53.5% from the same frame last year.
It is hard to tell if the coronavirus outbreak had a major effect on movie-going in North America this past weekend, since most of the holdovers fared pretty well, but outside the U.S. the virus is having a major effect with theater closings in China, Italy, and South Korea. Pixar's Onward is not a sequel to a successful film or the adaptation of a popular book, which makes the marketing harder, and Pixar's commitment to excellence in animation means that all of that studio's films are going to be pricy, but the decision to go with a $200 million blockbuster budget for an original property with does not (based on its story line) appear to be franchise-able is a real head scratcher. In addition the character design in Onward resembles what you would see in kids' cartoons and video games, which may have limited Onward's appeal to adults—and a large mainstream adult audiences has been behind the success of so many Pixar films, like The Incredibles, the Toy Story movies, Up, and Inside/Out just to name a few.
Not to say that Onward doesn't deliver a very Pixar-like emotional punch in its third act—and audiences that did see the film definitely liked it giving it an "A-" CinemaScore as well as a 96% audience mark on Rotten Tomatoes that was even better than the its 86% "Fresh" rating from the critics polled by RT. According to PostTrak families made up 58% of the opening weekend audience, which skewed slightly female (52%). The coming Spring break season should help Onward with its youthful audience in the coming weeks, if the coronavirus scare subsides, but even then Disney will step on Onward big time with its release of the live-action Mulan on March 27.
Onward opened in over half of the international markets and earned just $28 million, and it won't debut in some key markets like Japan, Korea, and Italy until mid-April (depending on the virus), and there is no China release set yet, so it is difficult to see how the international market will rescue Disney and Pixar from this one. Like Universal's pricy Dr. Dolittle ($221 million) and Fox's Call of the Wild ($110 million distributed by Disney), Onward appears to be another 2020 financial bomb—and with plenty of expensively produced films still to come in a year in which a virus could devastate theatrical movie-going, this could be the shape of things to com. Worst case it might even force studios to attempt to reach audiences by steaming new movies instead of releasing them theatrically, a move the movie moguls have been loath to make. It is far too early to predict the effect of the virus around the world, but it is having a major impact already in China, South Korea, Japan, and Italy. The movie industry as currently constituted is one of the most vulnerable to an international pandemic.
Universal's radical re-imagining of The Invisible Man is proving to be the most financially successful of its "Dark Universe" revival of its "classic monsters" yet, but not because it is going to make a lot more money than the studio's first DU movie, The Mummy with Tom Cruise, which earned $80.2 million here in North America in 2017. Writer/director Leigh Whannell's The Invisible Man dropped just 46.3% in its second frame as it earned $15.15 million to bring its domestic 10-day total to $52.7 million. Even if A Quiet Place Part 2 stifles The Invisible Man's run in two weeks, Whannell's film will certainly match or exceed the North American earnings of the 2017 Mummy, and The Invisible Man cost just $7 million to make versus $125 million for the Cruise-starring The Mummy.
Gavin O'Connor's "redemption through sports" drama The Way Back, which stars Ben Affleck, has done well with the critics (87% positive on Rotten Tomatoes), and received a solid "B+" CinemaScore from opening weekend audiences, which, according to PostTrak, was definitely on the older side (87% over 25), which is probably why the $21 million production opened with just $8.5 million. Just to point out how we live in an era of lowered expectations for adult dramas the $8.5 million was actually above some analyst's predictions, which ranged down to $6 million. Despite the strong reviews from critics and audiences alike, The Way Back appears to be latest in a series of Warner Bros. "serious" dramas that includes The Kitchen, The Goldfinch, The Good Liar, and Richard Jewell, all of which proved to be box office failures.
The live action/hybrid videogame-based Sonic the Hedgehog continues to chug along, earning $8 million in its fourth weekend (down 51%) and bringing its North American total to $140.8 million. It has done a bit better overseas and is closing in on $300 million worldwide. Without the Chinese market Sonic has no chance at the worldwide record for videogame-based movies held by World of Warcraft ($438 million), but it is still a much needed "win" for Paramount.
The Call of the Wild, which stars Harrison Ford, dropped 47.6% in its third weekend, earning $7 million to bring its domestic total to $57.5 million. This adaptation of the 1903 novel by Jack London has earned almost $99 million worldwide, which would be a pretty decent performance if the film hadn't cost $110 million to produce.
In the bottom half of the top ten, 2020's breakout hit, the R-rated action comedy Bad Boys For Life, earned $3 million in its eighth weekend to bring its total to $202 million, which means it is the first January release in history to pass $200 million in the domestic market, while the DC Comics-based spin-off Birds of Prey earned just $2 million to bring its disappointing domestic total to just $82.6 million, and the anime movie My Hero Academia remained in the top ten for the second week as it earned $1.53 million to bring its North American total to $12.7 million, which gives it the #8 spot for anime films released here in the U.S.
Be sure and check back here next week to find out what happens when three new films hit theaters including Bloodshot, which stars Vince Diesel and was supposed to be the first film in a shared universe of movies based on characters from Valiant Comics. Produced on the cheap (for superhero movies--$42 million) in South Africa, Hungary, and the Czech Republic, could Bloodshot be the first comic book-based hit of 2020, or a disappointment like Birds of Prey? Also debuting are the Christian-themed biographical film I Still Believe, and the inanely-premised and previously-delayed (almost always a bad sign) The Hunt.