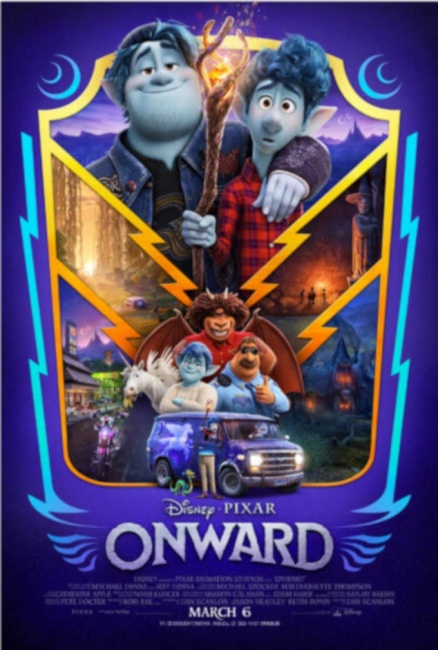 Save for a few hard hit localities, the coronavirus pandemic has not yet shut down U.S. theaters, though most major chains have already implemented a crude form of "social distancing" by selling just one ticket for every two seats in an auditorium, but COVID-19 has already had a major effect on movie-going with the total of the top ten films this week plummeting to a level not seen since mid-September 2000.
Compared with the same weekend last year when
Captain Marvel
ruled the box office for a second weekend in a row with $68 million, the total of the top ten films was down a whopping 55.3%. So far the 2020 box office trails 2019 by nearly 9%, and catching up appears to be an impossibility given the postponement of almost all of major releases over the next few months (especially with some like
Fast & Furious IX
pushed to 2021).
With major movie productions shut down along with most of the 60 TV pilots, the losses to the entertainment industry are already in the billions as we move into uncharted territory over the next few weeks. With all major sporting events, Broadway shows, and many other forms of "mass" entertainment already shut down, there is no guarantee that movie theaters will remain open in the coming weeks—and there is no hope of a rescue via the international market with more than 70,000 theaters remaining in the dark in China, and with cinemas in Italy, Japan, and other countries shuttered as well.
The number one film for the second weekend in a row is Pixar's
Onward,
which sank 78% in its second frame, a record drop for a Pixar film.
Onward's
path to profitability was always going to be difficult given the film's enormous cost, but the coronavirus has crippled the "legs" of the well-reviewed Onward, which received an "A" CinemaScore from opening weekend audiences. Now the film's muted opening, attributed to the fact that it is an original story, certainly didn't bode well, but the unfortunate films in theaters now are at the mercy of societal forces well beyond their control. With just $60.3 million domestic and $101.4 million worldwide after 12-days
Onward
is on a path to become Pixar's biggest money loser yet.
The best performer among three new films was the faith-themed
I Still Believe
, which opened with $9.5 million. Directed by the Erwin brothers, whose
I Can Only Imagine
opened with $17.1 million in 2018
, I Still Believe
earned an "A" CinemaScore from opening weekend audiences (as well as a 99% positive audience score on Rotten Tomatoes). Unfortunately
I Still Believe
may have to reach much of its potential audience in some way other than via the local multiplex. According to PostTrak, opening weekend patrons of
I Still Believe
skewed heavily female (74%) and older with 73% over 25.
Close behind in third place was the Vin Diesel-starring
Bloodshot
, which opened with $9.3 million. Originally planned as the first film in a series based on characters from the Valiant Comic Universe,
Bloodshot
actually opened about where analysts predicted--a tribute to the hardiness of fans of comic book movies. Audiences gave
Bloodshot
a "B" CinemaScore, a much better grade than the critics polled by Rotten Tomatoes, who gave the film just a 31% positive rating.
The problem for
Bloodshot
is the film's $45 million cost, which is low for a superhero film, and in ordinary circumstances wouldn't be that much of a problem, especially given Vin Diesel's popularity overseas, which is largely due to his work in the
Fast & Furious
movies (Diesel's
Last Witch Hunter
earned 82% of its worldwide total outside the U.S., and much of that in China). But with theaters shuttered in The Middle Kingdom
, Bloodshot's
run to any sort of profitability becomes much more difficult.
Universal's re-imagined
The Invisible Man
posted the lowest drop of any holdover, a whopping 60.3%. With the three new films coming in close to analysts' predictions, it was the holdovers that really took it on the chin this weekend—this writer has never seen a weekend when the smallest week-to week drop was over 60%. What happened to the holdovers this past weekend certainly doesn't bode well for the coming weeks, which, with most of the major new releases postponed, will apparently consist primarily of holdovers along with the potential debuts of a few films with limited prospects of success (Marvel's
Black Widow
, which is still set for a May 1 debut, is a major exception, but will that film actually still debut as planned—stay tuned?).
This week's other "new" film was the "social satire" horror film
The Hunt
, an ill-conceived riff on "The Most Dangerous Game," in which gun-toting members of the "liberal elite" prey on Trump-loving "deplorables." Aside from being based on the misguided conception that there is some sort of "liberal cabal" that secretly moves the hidden levers of power in our society (look in our country the only "elite" with any real power is the economic elite),
The Hunt
manages to be offensive to both sides of the partisan divide without shedding any light on the motives and attitudes of either "liberals" or "conservatives." Earning just a lousy "C+" CinemaScore and a paltry $5.3 million,
The Hunt
is heading toward a well-deserved oblivion.
Be sure to check back here next week to see what happens as we move further into uncharted box office territory.