Confessions of a Comic Book Guy is a weekly column by Steve Bennett of Super-Fly Comics and Games in Yellow Springs, Ohio. This week, Bennett talks a little about his views on being sequestered and the swath of entertainment available on streaming services.
I knew I had to at least acknowledge the global pandemic, but didn't think I had anything original or significant to add to the conversation, then I realized I could draw upon personal experience. Here's a real confession for you. Back in 2019, I fractured five ribs and my left shoulder and then spent the following fourteen months in a nursing home.
I haven't written about it here and wasn't planning to because it really didn't seem all that relevant. Back in 2017, I did write about my broken elbow (see "Confessions of a Comic Book Guy - Back Off the Injured List"), but that was to explain my three-month absence from ICv2. I was able to keep writing these things on a regular basis while I was being medically sequestered, so it just seemed like something bad (and it was pretty bad) that happened to me. And you've all got problems of your own.
But I did learn a few things while I was there that is, unfortunately, pretty pertinent at the moment.
First, wash your hands. Always. Now, I'm not a savage. I was a hand-washer before I went in, but while I was there plenty of viruses being spread in a confined space, and after seeing several people being taken to the hospital for something that started as simple colds, hand washing became a regular ritual. And I didn't get sick, not once. It's not apotropaic (protective) magic, but it is an effective proven preventative, something you can do that actually works; and we don't have a lot of those right at the moment.
It's a message adults need to hear, but it's nice kids are being hectored to as well; Cartoon Network Scrubs Up Global Health PSAs Featuring Fave Characters. CN is launching "global PSAs focused on the importance of good hygiene practices, in support of worldwide efforts to prevent the spread of the novel coronavirus (COVID-19)." Characters from the network's shows, like Craig of the Creek, The Powerpuff Girls, Teen Titans Go!,We Bare Bears and Steven Universe will be appearing in two PSA's. "Wash Your Hands" a "tutorial... stressing the importance of using soap and washing their hands in five in-depth steps: Wet, lather, scrub, rinse and dry." And "Be Clean, Be Cool" is an "animated rap music video" that encourages kids to do things like "covering your mouth when you sneeze" and avoid touching your face.
I also learned that you could survive months of living entirely indoors, just so long as you're properly distracted. While so much of our entertainment has been canceled, postponed or in reruns, we still have new comics. It's just a matter of getting the comics to customers. And I'll be honest, other than direct sales shops trying home delivery, I don't have a lot of suggestions about how the direct sales market can weather this (see "Suggestions for Comic Publishers and Retailers on the Coronavirus Epidemic").
Though, if my memory serves me, back in ancient days at the dawn of the direct sales market there were retailers who, before they could open stores of their own would meet their customers in a parking lot and sell comics out of their cars. Maybe for the duration some stores could do that.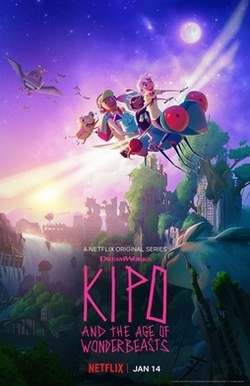 Thankfully, we still have the internet to provide plenty of distractions. And hopefully, you now have the time to catch up on some of the seemingly endless entertainment it has to offer. Like, until staying at home became the smart thing to do, I hadn't gotten around to seeing
Kipo and the Age of Wonderbeasts
, a cheerily optimistic post-apocalyptic new animated series on Netflix, which might just be the perfect show for our current troubled times.
I'd heard nothing but good things about it, but strangely, not that it was based on a web comic Radford Sechrist's 2015 Kipo. I was unfamiliar with both the comic and its creator, but along with drawing comics for Random House, Abrams, Barnes, and Noble Sechrist has worked as a storyboard artist/ character designer for DreamWorks Animation, Disney TV and Cartoon Network. And along with being its creator, Sechrist is also an executive producer of Kipo and the Age of Wonderbeasts, along with Bill Wolkoff (who's written for shows like TRON: Uprising and Star Wars Rebels) who also serves as its co-showrunner.
Sechrist pitched the series as "'Walking Dead,​ but everything that's trying to kill you is adorable'", It's the End of the World and She's Just Fine!: 'Kipo and the Age of Wonderbeasts'. Which, with its kaiju giant bunnies, sums up the show nicely. It's central character Kip is a Korean-American "burrow girl" (someone who grew up in a subterranean human settlement) who has to navigate a Day-Glo hued " post-apocalyptic urban wasteland ruled by sentient mutant animals". She's accompanied by Wolf, (who's not a wolf girl but a girl raised by wolves), Mandu, (a blue six-eyed, six-legged pig), Benson, an African -American old music aficionado and Dave (an intelligent insect who repeatedly grows from larva to old age and back again).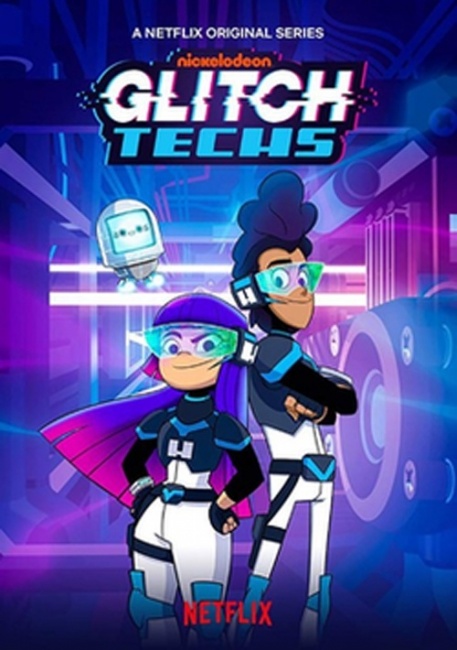 Another new animated series on Netflix worth checking out is
Glitch Techs
created by Eric Robles and Dan Milano. It's about Hector "High Five" Nieves and Miko Kubota, two hard-core gamer teens who by day work at a game store, and by slightly later in the day battle "video-game monsters that have found their way into the real world." It's a very 90's premise, and it has exactly that kind of wild fun and enthusiasm.
Like Kipo and the Age of Wonderbeasts, Glitch Techs has a unique cartoony visual look that nicely balances the comedy and drama and includes a multiethnic cast, including a Muslim-American character who wears a hijab.
And since we'll apparently being sheltering in place for a while, it's nice knowing that a season of DuckTales is coming April 4 which will feature "the Duck family embarking on a globetrotting hunt for the world's greatest lost artifacts, with a secret organization from Scrooge's past, the Fiendish Organization for World Larceny (F.O.W.L.), trying to stop them at any cost." And on May 15 Netflix will stream the fifth and final season of She-Ra and the Princesses of Power, Exclusive: She-Ra showrunner Noelle Stevenson reveals season 5 will be its last.
The opinions expressed in this column are solely those of the writer, and do not necessarily reflect the views of the editorial staff of ICv2.com