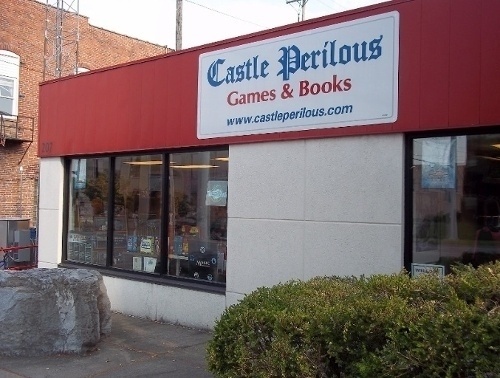 Rolling for Initiative is a weekly column by Scott Thorne, PhD, owner of Castle Perilous Games & Books in Carbondale, Illinois and instructor in marketing at Southeast Missouri State University. This week, Thorne gives his report on Dungeon Crawl Classics Day, looks ahead to Free RPG Day, and comments on recent events at Cards Against Humanity.
First off, a few thoughts regarding DCC Day earlier this month (see "
Rolling for Initiative – A Look at Dungeon Crawl Classics Day
"). The store did not really expect much out of the event, given that
Dungeon Crawl Classics
sells pretty slowly here, averaging about 1 module per month (The publisher's
Fifth Edition Fantasy
sells much better here, primarily to players looking for a comparatively inexpensive low level D&D adventure. There are only so many $50 Wizards of the Coast adventures that will sell to customers. (BTW, WOTC, if you are listening, based on sales of your $50 adventures, a nice $10 or $20 print adventure would sell really well). As I figured, there was not a lot of local demand for the DCC items, as it took us most of the day to run through the Quick Start rules and Adventure Pack promos but we did sell through the
Shadows of the Beakmen
module and could have used a few more of those in the kit. I was rather surprised to find Goodman Games prediction that DCC fans would drive a good distance to get the promo items as we had one group drive 2 hours to shop and another made a 6 hour round trip just for DCC so loyalists are out there.
Following up on my comments from the previous column, one further change I would like to see in next year's event is the elimination of the limited edition rulebook, replacing it with a more expensive limited edition source book or module, such as 2014's
Chained Coffin release
(which, by the way, uses the
Manly Wade Wellman John the Wanderer
series for source material). Items such as that would have attracted more attention than another edition of the rulebook.
Meanwhile, following up on Free RPG Day, the Free RPG Day kits do not include any salable items as the Uber Kits have in past years. However, Gaming Days LLC has arranged with Alliance Distribution to offer retailers an additional 5% discount on a number of items from publishers and manufacturers that have items in
this year's kit
.
9th Level:
Fantasy Flight Games:
FFGGNS01 Genesys RPG Core Rulebook
FFGGNS02 Genesys RPG Dice Pack
FFGGNS10 Genesys GM Screen
Goodman Games:
GMG5070 DCC: Core Rules
GMG5070H, DCC core rulebook, gold foil demon skull limited edition cover
GMG5071, DCC Annual, hardcover
GMG5219, DCC Lankhmar boxed set
GMG6200, Mutant Crawl Classics core rulebook
GMG50002, Original Adventures Reincarnated #2: The Isle of Dread
Paizo:
PZO2101 Pathfinder 2.0 Core
PZO2102 Pathfinder Bestiary
PZO2103 Pathfinder GM Guide
PZO2201 Pathfinder GM Screen
PZO2203 Pathfinder Combat Pad
PZO7101 Starfinder Core
PZO7102 Starfinder GM Screen
PZO7105 Starfinder Alien Archive
Renegade Game Studios:
RGS07119 Kids on Bikes Core Rule Book
RGS00813 Overlight RPG
RGS00815 Overlight GM Screen
RGS08721 Junior Braves Survival Guide
WizKids:
WZK16501 Warlock Tiles: Dungeon Tiles I
WZK16506 Warlock Tiles: Town & Village I
WZK72778 D&D Icons of the Realms: Starter Set
WZK72779 D&D Icons of the Realms: Epic Level Starter
WZK74076 D&D Icons of the Realms: Eberron Rising Brick
WZK74078 D&D Icons of the Realms: Eberron – Skycoach
WZK90001 – WZK90047, WZK90051, WZK90052 – Wave 11 of Unpainted Miniatures
And finally, looking at the turmoil engulfing Cards Against Humanity (see "Cards Against Humanity Partner Departs"), is anyone really surprised that the company that created the crass party game genre through ripping off the mechanics of Apples to Apples would have a toxic work environment (according to Vox)?

Feel free to email me comments about DCC Day, Free RPG Day or Cards Against Humanity at castleperilousgames@gmail.com

The opinions expressed in this column are solely those of the writer, and do not necessarily reflect the views of the editorial staff of ICv2.com.