Confessions of a Comic Book Guy is a weekly column by Steve Bennett of Super-Fly Comics and Games in Yellow Springs, Ohio. This week, Bennett looks at the buzz about the new Disney Channel series, The Owl House.

In March, I suggested Disney's new animated series, The Owl House, about Luz Nocedal, a 14-year-old Dominican-American girl who travels to a dark fantasy world to learn to be a witch, could be the next big thing on the Disney Channel (see "Confessions Of A Comic Book Guy--Next Up Is..."). While I cannot definitively say this is the case, at least a lot more people know it exists, thanks to its August 8 episode "Enchanting Grom Fight," where it was canonically confirmed Luz is Disney's first bisexual lead character, per CNN.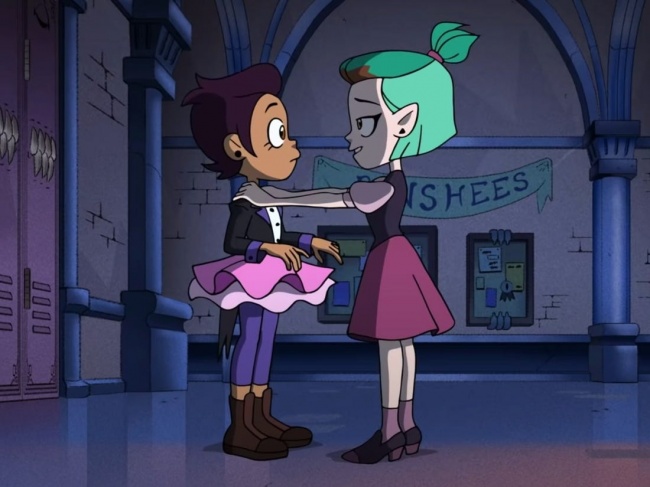 In that episode, Luz's magic school is having its version of prom called "Grom," which is named after a fear monster (bonus fun fact; it's also what you call a gay prom) that the Grom Queen must battle. This year's Queen Amity, Luz's former rival, is afraid fighting it will reveal her innermost fear; that she has a crush on Luz and is afraid of being rejected. It's a smart, sweet story that honestly deals with authentic adolescent fears and feelings that ends with the girl doing a wonderfully fluid show-stopping dance monster to destroy the Grom.
I had planned to write about this last week but ran out of both room and steam, which was probably for the best since it took roughly a week for the news to get picked up by major news sites. I know there's almost always an avalanche of news these days, but after a couple of days of not seeing it anywhere, I assumed it just wasn't considered that big of a deal. That, of course, turned out to be very much not the case as there are now stories about this on news sites across the Internet. Including the UK's
The Sun
and
New York Post
, media outlets who don't always see developments like this in a positive light.
So far the only less than a neutral reaction to the news I've been able to find so far was in a
CBN
(Christian Broadcast Network) piece which describes Luz as "exploring her sexuality while dabbling in witchcraft" (to them the second thing being as nearly as bad as the first) and that "these awkward and confusing gay moments" are "difficult to explain" to explain to the children of Christian parents. It ends with the statement that conservatives have "called on parents to boycott Disney's 'LGBT agenda'."
I won't argue their other points, they're entitled to their opinion, but that last part is just not factually true; it's not "Disney's "LGBT agenda," or the agenda of DreamWorks, Nickelodeon or Cartoon Network. It's never them, it's the agenda of the show's creators. Series creator Dana Terrace, who is also bisexual, told
Variety
, "In [development] I was very open about my intention to put queer kids in the main cast. I'm a horrible liar so sneaking it in would've been hard," Terrace wrote. "When we were greenlit I was told by certain Disney leadership that I could not represent any form of bi or gay relationship on the channel."
Noelle Stevenson, the creator of
She-Ra and the Princesses of Power
, is on record as saying she had kept her plans to end the series with a happy same-sex relationship between the main antagonist and protagonist something of a secret because, as she told
io9
, "My big fear was that I would show my hand too early and get told very definitively that I was not allowed to do this."
Rebecca Sugar, creator of
Steven Universe,
was told by Cartoon Network she couldn't have her two female characters Ruby and Sapphire, in a romantic relationship; then she did, according to an interview with
Paper
.
It's always the creators who are pushing the "agenda" that gay people walk among us and are as deserving of representation, and love, as anyone else. Terrace now says she feels "very supported by current Disney leadership," no doubt due to the fact that while doing things like this in children's entertainment always carries some risk, it's been pretty definitively proven that the benefits clearly outweigh the risks. The primary benefit being the fervent support of a growing fanbase, which has given the show an incredibly enthusiastic reception -- just go to
YouTube
to see for yourself. This can sustain a show like
The Owl House
and move a lot of merchandise. Now, if there were only
Owl House
comics...
As of Monday, Disney is letting
The Owl House
speak for itself, as they haven't responded to any requests for comments. Running silent is undoubtedly the sensible thing for The Mouse to do. They've been regularly criticized for not doing enough for representation and diversity, but without saying a word they can chalk this one up as a creative, and public relations, win.
The opinions expressed in this column are solely those of the writer, and do not necessarily reflect the views of the editorial staff of ICv2.com.