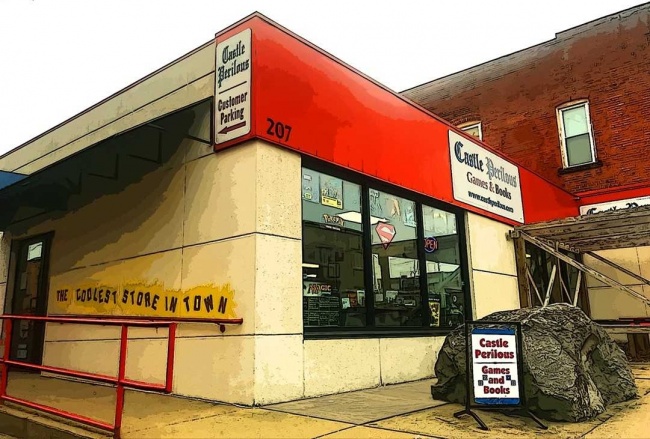 Rolling for Initiative is a weekly column by Scott Thorne, PhD, owner of Castle Perilous Games & Books in Carbondale, Illinois and instructor in marketing at Southeast Missouri State University. This week, Thorne takes a look back at 2020 and the ups and downs it brought to game stores.
Looking back at 2020, calling it "not the greatest of years" puts it pretty mildly. We, and a number of other stores from what I have heard, were on track to have our best year ever when we got hit by the COVID-19 epidemic. This caused the bottom to drop out of sales in March and April before picking up again, along with much of the economy (restaurants, bars, gyms and other businesses requiring close contact excepted), in May and throughout the summer. With that in mind, a few things of note from the past year:
Publishers stepped up. As I noted last May, a number of publishers acted above and beyond the call in order to support the LGS (see "Rolling for Initiative -- How Publishers Are Helping the LGS in the Time of Quarantine"). The free shipments of Mystery Boosters from Wizards of the Coast were especially helpful during the early summer as they added some much needed cash into store coffers at the time. We also saw help from several other TCG publishers as well as a number of board game publishers.

Cons Went Away. Due to fears of COVID 19, all of the big conventions went away this year, though a few small ones hung around (see "Rolling for Initiative -- How to Host a (Gaming) Convention During an Epidemic"). This especially hurt small publishers who rely on getting a table at the big gaming cons to show off their new releases. Yes, they can list their new releases online, post videos of the gameplay, and work to get them reviewed by various game review sites, but there are thousands of new game releases each year to compete with. Showing games off at Origins, Gen Con, or Essen was the best way for a small publisher to gin up interest in their new release. The cons also provided a shot of cash for both the publisher and retailers that set up at them, as attendees found themselves in an environment where they are more predisposed to spend their money. Unfortunately, I do not see these coming back until summer 2021 at the earliest.

Jigsaw Puzzles. For some reason, jigsaw puzzles got picked as the pandemic activity of choice during March and April. Most publishers sold out on their stock early, and the few stores that did carry a goodly line of puzzles saw incredible jumps in sales of the product before the fad ran its course and puzzle sales dropped back to normal.

Pivot to Online. With most game and comic stores classified as 'non-essential" (perish the thought) during March and April, stores that did not have much of any online presence found setting up an online store one way to keep cash coming in while suffering mandated closure. Square made it very easy for stores to set up an online storefront and offer online gift cards (see "Rolling For Initiative -- What Retailers Can Do in the Time of the Coronavirus Pandemic"). More stores set up Shopify stores as well and created and expanded TCGplayer accounts.

Events. The game publishers that focused heavily on Organized play (WotC, Konami, Pokemon), all put their programs on hiatus early on until further notice, moving them to online platforms or cancelling them all together (see "Rolling for Initiative -- COVID-19 and Its Effect on the Game Store Model"). Those stores with large event spaces found all of that space they were paying rent on going to waste so a lot of them expanded their retail footprint into their event space as well as expanding their online presence. And, WotC is not penalizing stores for not running events makes it much easier to not host them. We'll have to see if stores pivot back when events open back up, probably summer or fall 2021.
Your thoughts on 2020? Email castleperilousgames@gmail.com.

The opinions expressed in this column are solely those of the writer, and do not necessarily reflect the views of the editorial staff of ICv2.com.