Confessions of a Comic Book Guy is a weekly column by Steve Bennett of Super-Fly Comics and Games in Yellow Springs, Ohio. This week, Bennett talks Scooby-Doo team ups and comic-inspired girl names.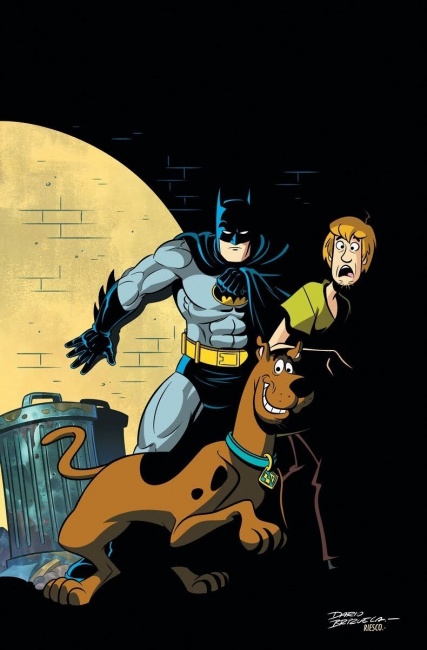 I've never made a secret of the fact I was a big fan of DC's
Scooby-Doo Team-Up
(see
"
Confessions Of A Comic Book Guy -- The Scooby Condumrum
"
), the comic book that teamed the Scooby Gang with B-list DC and Hanna-Barbera characters. And how sad I was to see it go after 100 issues. Well in some genuinely good news, in March DC will be doing a new Scooby comic that's right in my wheelhouse;
Batman & Scooby-Doo Mysteries
.
It will be written by Ivan Cohen and Sholly Fisch with art by Dario Brizuela and Randy Elliott, and will have Batman teaming up with not just Scooby and Shaggy but the entire Gang. This is also good news, seeing as how it's hard to imagine even "The Batman Who Smiles, Occasionally", tolerating those two on their own for very long. It will have 24 digital issues that will be collected in 12 print issues. Batman & Scooby-Doo Mysteries #1 will feature "Glove Story " that will have the Scooby Gang time traveling back to the days of Batman: Year One to solve the mystery of, "Whatever Happened To Batman's Original Purple Gloves?"
In that piece in The Hollywood Reporter, there's a very welcome interview with Scooby writers Sholly Fisch and Ivan Cohen. In this interview, there's this quote from Fish; "Toward the end of Scooby-Doo Team-Up, I finally, finally figured out a way to make a Watchmen-Scooby team-up work — well, sort of — but the series ended before I got the chance to try." Hey, DC, you need to let Mr. Fisch do his Watchmen-Scooby comic as a one-shot; the freak factor baked into that crossover will give you a ton of free press...and make issues fly off the shelves.
When there's an alert for comic books on your Newsfeed, you get a lot of interesting articles from unexpected places on the Internet. For instance, from the Cafemom website, a list of 15 comic book-inspired girls' names. Among them, there were the obvious and expected from DC, Marvel (Lois, Diana, Mary Jane, Harley, Ivy, Selina, Natalia, Jean), and Archie (Betty, Veronica, Josie).
Among the unexpected and obscure was Maybelle, which is apparently Aunt May's full first name; though this certainly came as news to me (and I've been reading The Amazing Spider-Man since the 1960s) and Jane, the title character from Jane Arden, a now-obscure comic strip that ran from 1928 to 1968 about a "spunky reporter". Some online sources claim this was the inspiration for Lois Lane; which also came as news to me.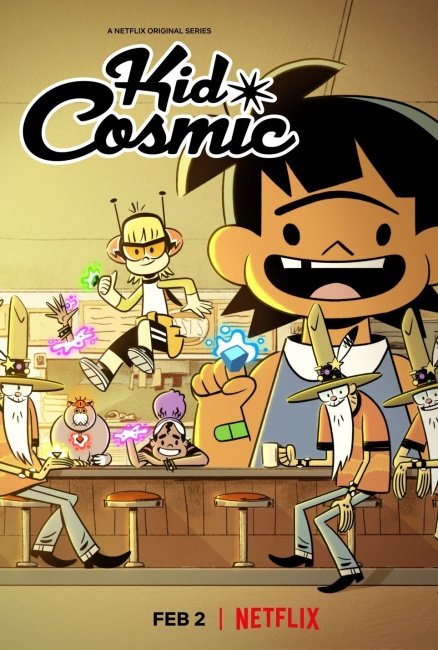 I've long been a fan of Craig McCracken, creator of the animated series
The Powerpuff Girls
and
Foster's Home for Imaginary Friends
at Cartoon Network and
Wander Over Yonder
at Disney. So, I'm happy to report that McCracken's latest creation
Kid Cosmic,
is coming to Netflix, a 10-episode, 22-minute, super-heroic serialized show about an ordinary kid, named Kid, who discovers "5 Cosmic Stones of Power in a wrecked spaceship". Kid and his Grandpa Papa G, who can clone copies of himself, and their friends Jo, a teenage girl with teleportation powers, Rosa, a four-year-old who can grow to enormous size, and Tuna Sandwich, the fat cat who can see the future, use their powers to defend their small desert town from alien invaders.
Kid Cosmic
premieres on February 2.
The opinions expressed in this column are solely those of the writer, and do not necessarily reflect the views of the editorial staff of ICv2.com.