Confessions of a Comic Book Guy is a weekly column by Steve Bennett of Super-Fly Comics and Games in Yellow Springs, Ohio. This week, Bennett discusses the My Little Pony/Transformers sequel, plus more about the status of MST3K.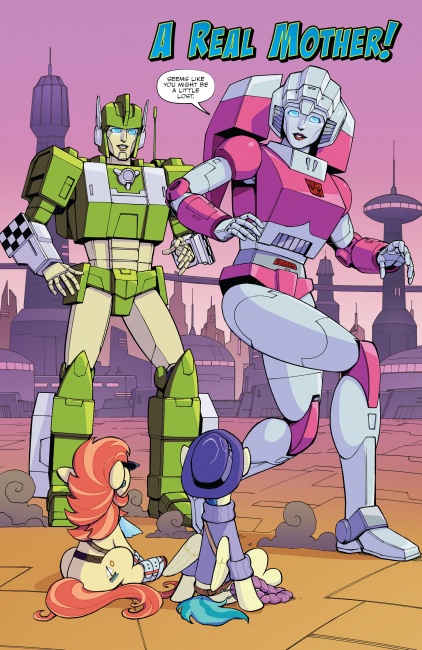 It arrived too late to be included in my column for Kids Comics Week (see "
Confessions Of A Comic Book Guy -- This Week In Kids Comics"
), but you couldn't ask for a better comic for kids than
My Little Pony/Transformers: The Magic of Cybertron #1
(a.k.a.
My Little Pony/Transformers: II),
the sequel to last year's crossover mini-series. This one takes the Ponies to Cybertron where they and the Decepticons fall under the evil influence of King Sombra, leaving it up to the remaining Ponies and Transformers to stop them through the magic of friendship (of course).
That's all established in the main story, and while it's a lot of fun it's the backup, "A Real Mother" written by Sam Maggs and drawn by Casey Coller, is the real gem. In it, Holiday and Lofty travel to Cybertron looking for their niece Scootaloo where they team up with Transformers Arcee and Greenlight to subdue a massive out-of-control Decepticon...with a ball of yarn. Yeah. I've never read that type of story before.
Not being a big fan of either the Transformers or the Ponies, the story still had a couple of surprises for me; Aunt Holiday and Aunt Lofty are in a committed long-term relationship and Acee was canonically a transgender lesbian. This explains why she seems embarrassed after she calls an uncomprehending Greenlight her "gal". Be brave, Acree. Speak your truth, let her know how you feel.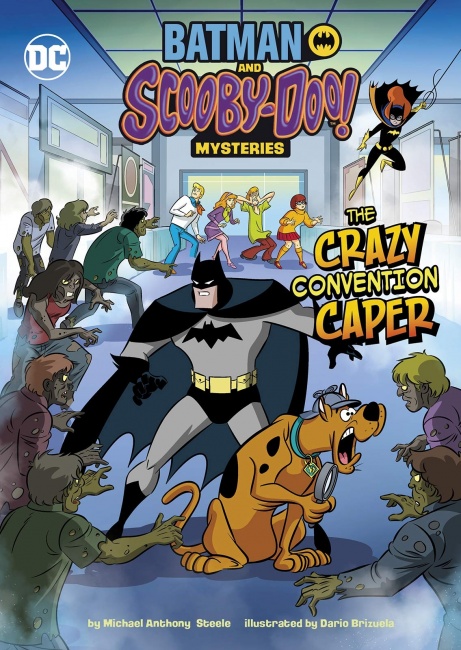 Last week, I also wrote about
The Batman and Scooby-Doo Mysteries
comic (though I didn't put the definitive article in the title because several places online didn't use it), but what I didn't know then was WarnerMedia seems to want to turn it into its own brand. There's a series of
The Batman and Scooby-Doo Mysteries
chapter books coming out from Stone Arch Books in August written by Michael Anthony Steele with illustrations by Dario Brizuela. Titles in the series include
The Crazy Convention Caper
,
The Escape from Mystery Island
,
The Case of the Cursed Crop,
and
The Chilling Ice Rink Escapade
.
Back in April (see "Confessions Of A Comic Book Guy -- Big Chungus Unleashed"), I wrote about how Mystery Science Theater 3000 creator Joel Hodgson had launched a Kickstarter campaign to finance a new 12 new episodes of the show. It ends on Friday, May 7 at 11 PM, and while it's going very well, MST3K fans are used to bitter disappointment (it is after all the series that's been canceled three times) so I'll believe it when I see the final tally.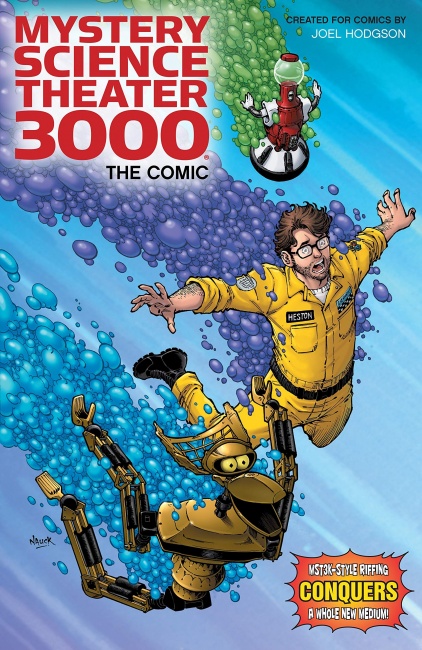 Naturally, the KS has gotten a lot of much-deserved online attention, but unfortunately, hardly anyone has mentioned Dark Horse's
Mystery Science Theater 3000: The Comic
from 2018. I consider it to be the most faithful comic book adaptation of a TV show, which is not surprising, given that it was written by Joel Hodgson as well as
MST3K
writers/producers Harold Buchholz, Matt McGinnis, Mary Robinson, Seth Robinson, and Sharyl Volpe.
And while there's no signs of a sequel on the horizon, I did read this interesting item from an interview with Joel; "We did a night where we read the comic book and it was projected on a big screen in a club...and it worked really great. So I think it's very likely for us to do more things like that. If we wanted to, we could do the whole comic book series, and break it up, so it's 20-minute installments that happen before a feature, or a classic episode, et cetera."
I believe Joel, has come up with something new; comic books as a multimedia performance piece. Hopefully, once we have comic book conventions again someone will get the MST3K crew to come and perform it for us.
The opinions expressed in this column are solely those of the writer, and do not necessarily reflect the views of the editorial staff of ICv2.com.