Confessions of a Comic Book Guy is a weekly column by Steve Bennett of Super-Fly Comics and Games in Yellow Springs, Ohio. This week, Bennett looks at the reviews for Space Jam: A New Legacy and offers a critique of the movie's cameos.
I have to confess, I've been kind of overwhelmed by the reactions that
Space Jam: A New Legacy
has received. At best the reviews were mediocre, at worst the bad ones really, really hated it; calling it "An Exercise In Excess", "An Abomination", "An Apocalyptic Horror Movie", "The Ultimate Vanity Project", and (my favorite) "A Hell Known Only To The Undead". All of which seems a tad excessive for a movie that admittedly was "
a 2 hour long, $150 million unabashed advertisement for Warner Bros and HBO Max's properties. Harry Potter, DC, Mad Max, Austin Powers, Casablanca (Turner Classic Movies), Rick & Morty (Adult Swim), and Game of Thrones
."
The only question then is, is it any good? The answer is: no, not particularly. It takes 40 minutes to set up LeBron James back story, something that could have easily have been done in 10. And once we're finally allowed access to the "Serververse", precious little is actually done with the shared universe concept other than to mix stock footage from better movies to tee up gags that don't land. Though the scenes on
Mad Max
World with the Road Runner and Coyote and Lola Bunny (as well as Bugs and LeBron in Amazonian drag) on Wonder Woman's Themyscira were admittedly a lot of fun.
The animation was good though. It's always a legitimate pleasure, seeing all of the Looney Tunes characters looking, acting, and sounding the way they should, in large part thanks to all of the talented character designers who worked on the film. One of them was Dave Alvarez, who a couple of weeks ago (see "
Confessions Of A Comic Book Guy -- In This Event...
") I called the current "King of funny animal artists" for while writing about his work on the
Looney Tunes: A New Legacy
graphic novel.
Alvarez has extensive credits working on
Looney Tunes
, from the DC Comics (including the
Jonah Hex/Yosemite Sam
and
Harley Quinn/Gossamer
crossover specials) to the current HBO Max
Looney Tunes Cartoons
series. But for some unknown reason, Alvarez didn't receive a credit for
Space Jam 2
; if it does become known, I'll be sure to let you know what it is.
A couple of weeks ago (see "
Confessions Of A Comic Book Guy -- Battle Of The Titans
"), I wrote that among the humans standing courtside watching the big game were Pete, Georgie, and Dim, Dim, the Droogs from
A Clockwork Orange
. Having seen them in the context of the film, I find I've the same problem that I've had with all of the unanimated spectators (which, heaven help us, includes the nuns from the movie
The Devils
and Baby Jane Hudson from 1962's
What Ever Happened to Baby Jane?);
they look awful. The people dressed as movie characters who do Meet and Greets at the Warner theme parks look a lot better; the blonde Droog looks more like Amy Poehler than a Droog.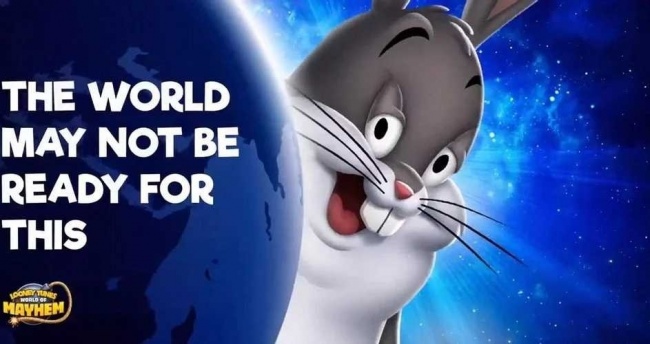 But, there are some genuinely positive things to be said for the movie. Like there's a genuinely surprising
Rick & Morty
cameo. And back in April, I wrote about Big Chungus, (see "
Confessions Of A Comic Book Guy -- Big Chungus Unleashed
"), Bugs' plus-sized persona who went from a brief appearance in the 1941 Looney Tunes short to become an Internet meme. Well, much to my surprise, he makes an equally brief appearance in
Space Jam: A New Legacy
; but hopefully, this will lead to seeing more of him.
That, and the fact that in spite of the bad reviews and terrible word of mouth,
Space Jam: A New Legacy
earned $54.6 million worldwide. You can argue all you want about the movie's quality, but it's hard to argue with that.
The opinions expressed in this column are solely those of the writer, and do not necessarily reflect the views of the editorial staff of ICv2.com.