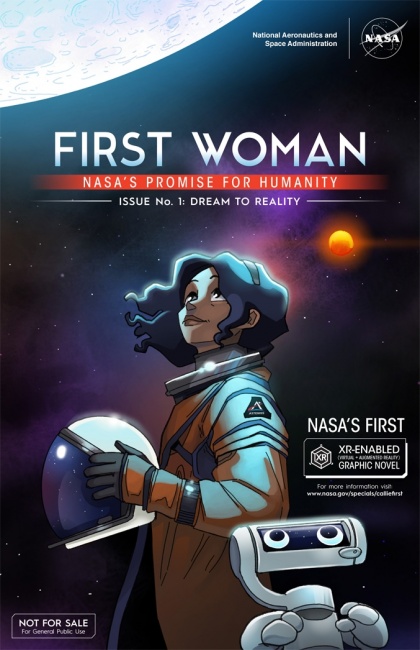 Confessions of a Comic Book Guy is a weekly column by Steve Bennett of Super-Fly Comics and Games in Yellow Springs, Ohio. This week, columnist Steve Bennett talks about First Woman and laments the death of Final Space.
Regular readers know that I've been hyper-interested in NASA and space since I was a kid back in the 60s (see "
Confessions Of A Comic Book Guy -- My Heroes Have Always Been Astronauts
"). And over the years, I've written repeatedly about the many ways that astronauts have made their way into comics, toys, and animation. Usually, it's in the past tense, but this week, I want to write about a project where the future of space travel meets a possible future for comics.
On National Comic Book Day NASA released
First Woman
is a 40-page augmented reality graphic novel the fictional story of Callie Rodriquez, the first female astronaut and person of color to land on the moon. And clearly, they're serious about this helping to inspire the next generation of astronauts needed for the upcoming Artemis moon missions (given all of the options they're giving us to read it for free).
There is a print version and I've seen copies in promotional photos, but if there's any way to order issues I've been unable to find it. You can read it online or download a PDF at the NASA website or listen to an audio version on NASA's SoundCloud -- there's also a Spanish-language version coming. Or you can download a mobile app on the Apple App Store or Google Play that allows you to "play games, watch videos and earn badges" and
"scan codes to experience environments and objects in a more engaging way
". I wish more comics had these kinds of options and add-ons.
Not being particularly tech-savvy all I could do was read the comic, which I did.
First Woman
#1," Dream To Reality", written by Brad Gann and Steven List and drawn by Brent Donoho and Kaitlin Reid, tells the inspirational story of Callie's struggles to become an astronaut and finally make it to the moon. Along the way, she's aided and abetted by her wisecracking robot RT who in the cause of comic relief behaves erratically and speaks almost non-stop on a movie trailer announcer voice. I'd recommend they check RT's software for glitches (or at the very least, install a mute button), but the kids should love him.

Back in 2019 (see "
DC Inserts Official Rubber-Chicken Target
"), I raved about the Adult Swim animated comedy
Final Space
. Like
Rick & Morty,
it was ostensibly a comedy about loneliness and hopelessness that was also equal parts character-driven drama and space opera that was frequently both sad and quite dark. Well, in an emotional YouTube
video
Final Space
creator Olan Rogers announced that the show was canceled
with its third season.
Rogers (who also voiced both the main character Gary Goodspeed and his alien bestie Mooncake) also announced that he'll be trying to revive
Final Space
in other formats including a feature-length film, comics, or a video game
. And while I'm personally saddened by the show's passing, as we know from
Mystery Science Theater 3000
and
Futurama
, cancellation isn't necessarily the end of a franchise. And in the meantime, I'd really love to read some
Final Space
comic books.
The opinions expressed in this column are solely those of the writer, and do not necessarily reflect the views of the editorial staff of ICv2.com.