Confessions of a Comic Book Guy is a weekly column by Steve Bennett of Super-Fly Comics and Games in Yellow Springs, Ohio. This week, columnist Steve Bennett takes a look at the comic box as the perfect gift item for hard-core comic fans.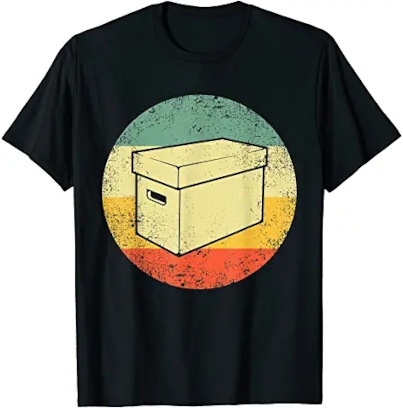 It's Gifts Week again at ICv2, and I honestly didn't think I would find anything that could possibly top last week's
Marvel Captain America Shield Cutting Board
(see "
Confessions -- A Better Tomorrow Today
"). Then I came across (on Zazzle) the
Funny Comic Book Lovers Design for Comic Book Fans T-Shirt,
emblazoned with a short comic book box. Thanks to the MCU, absolutely anyone (and I do mean everyone) can wear a shirt with a comic book character on it without fear of ridicule or reprisal. But the closest the general public has most likely ever gotten to a comic book box is spotting them on episodes of
The Big Bang Theory.
The short box might just be the perfect symbol for Comic Book Guys. That's when the idea came to me. Supplies,
that's
what you can get real hard-core comic book fans this year. It's certainly a gift they're sure to appreciate, as it's something that your average hard-core comic book fan always needs. Although it's a practical gift, they needn't be the same dull white cardboard boxes that are still the workhorse of comic book collecting. Nowadays there are models that are far more attractive and even more durable.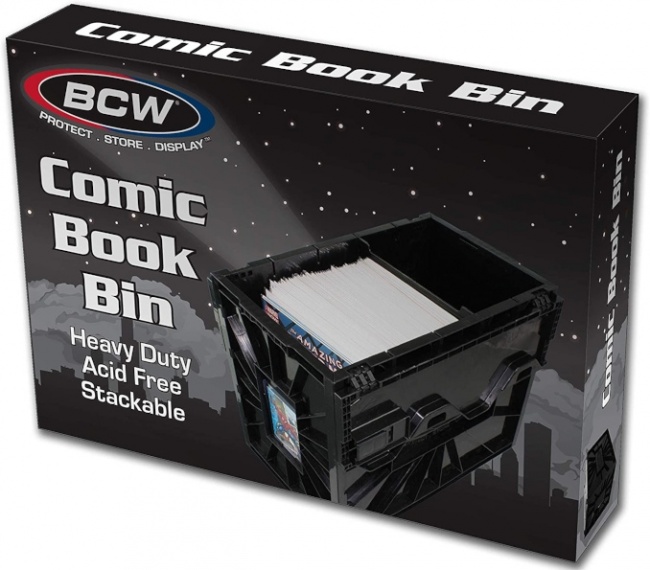 The short comic bin from BCW is a black, heavy-duty rectangular box weighing 3.4 pounds, and is 31.11 x 41.91 x 22.22 inches. Made from acid-free, reinforced, snap-together panels, it holds about 150 bagged and boarded comics and "includes a movable partition that helps stand up your growing stack of comic books" (additional partitions are available separately). And the lid panels have sliding locks. It has a suggested retail price of $32.83. A benefit for retailers: while it's currently on backorder, it's supposed to be shipping again the week before Christmas.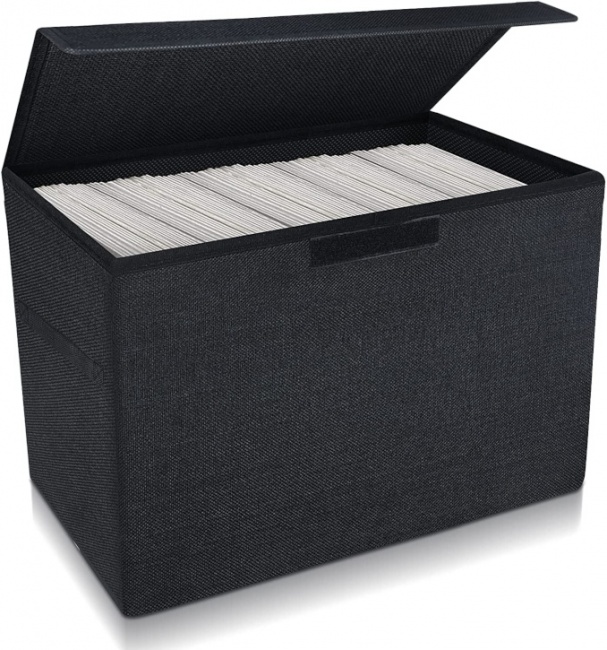 Made from fiber-glass, the Leffis short comic storage box is mold-proof and moisture-proof, collapsible, is 15.5" X 7.5" X 11.3" and holds 150 comics. The manufacturer, a Japanese company, pushes its "mold-proof and moisture-proof" qualities, but I'm more intrigued by its so-called "super stability" and the claim that the comics won't "tilt while moving." As a long-time user of short comic boxes, I've been endlessly frustrated by comics sliding around, and it's nice to think there's actually a solution to the problem. It has an SRP of $26.99.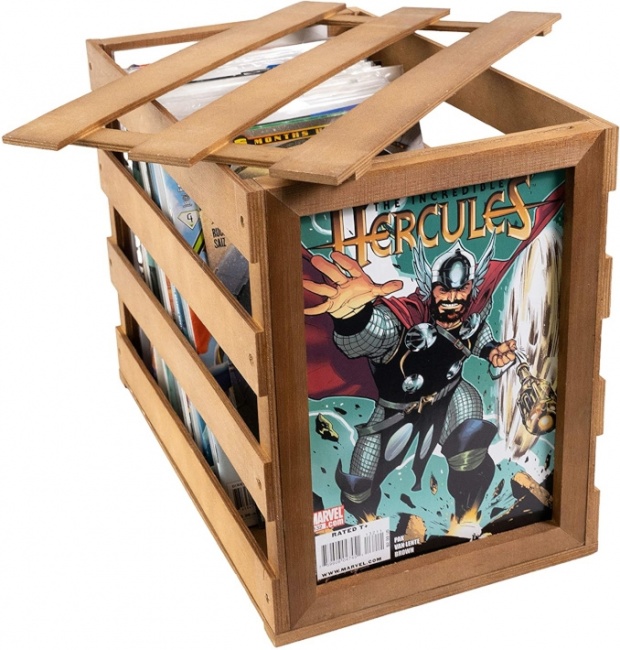 And finally, there's the Wooden Comic Book Storage Box from Nolla's Home Decor [
available only on Amazon, as far as we can tell, ed
.], which is 14.56" x 11.4" x 8.66" inches and holds "up to 170 comic books". The wood is supposed to be both "premium" and "heavy-duty", but having a history with splinters, I have to admit the fact that it's made of wood isn't necessarily a selling point with me.
Another possible negative is unlike the other two short boxes, it has to be assembled, though included are "pre-drilled screw holes and full assembly instructions. All you need is a screwdriver!" As someone who got a doctor's note to opt-out of high school shop, I have to confess, the prospect of actually putting together something more complicated than a Lego structure is somewhere daunting.
Still, I have to confess Wooden Comic Book Storage Box is one good-looking box, one that could look nice in your bedroom, or even in your living room, especially since they're stackable. And while at $38.99 it's the most expensive box, it's also the most substantial short box I've come across so far.
For all of the ICv2 Gifts Week articles on 2021 holiday merchandising, see "
ICv2 Gifts Week 2021
."
The opinions expressed in this column are solely those of the writer, and do not necessarily reflect the views of the editorial staff of ICv2.com.