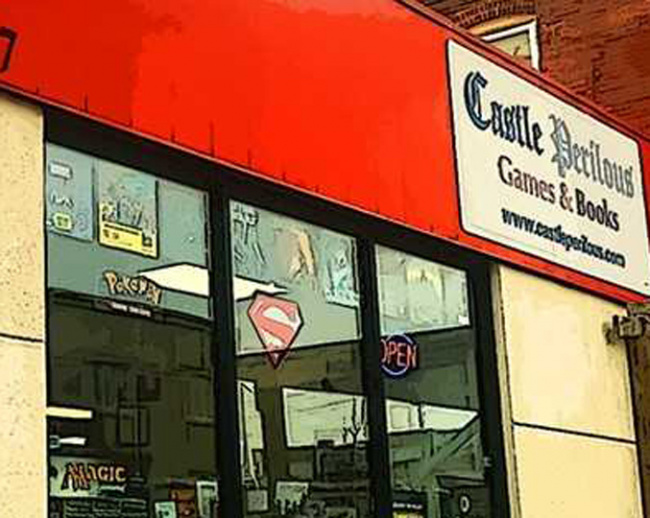 Rolling for Initiative is a weekly column by Scott Thorne, PhD, owner of Castle Perilous Games & Books in Carbondale, Illinois and instructor in marketing at Southeast Missouri State University. This week, Thorne explains how he got the city of Carbondale, Illinois to declare a Roleplaying Game Day.
Did you know that it is fairly easy to get a day declared to honor something in your home community? I have known communities to declare a day "Banned Books Day" or "Adopt a Dog Day" or "Woodlawn Cemetery Day" or even "Free Comic Book Day" (a few comic shops have gotten their city to declare the last one over the years). We got the city to declare
May 6 of 2017 as Free Comic Book Day
in the city of Carbondale, and our store got quite a bit of local publicity from doing so. This year, we asked Carbondale's mayor to proclaim June 25 as RPG/Roleplaying Game Day in the city. The process took about two weeks for the mayor to make the proclamation and we already have local media contacting us about it. It was surprisingly easy to accomplish, and here is what we did:
1.
Be active in the community.
Make members of the community beyond your customers aware of your existence. Participate, where appropriate, in community events (we donate to nearly every organization that asks but skip opportunities to set up displays at local beer and wine fests). Although comics and games have grown more mainstream over the past 20 years, we are still not as familiar to the public as supermarkets and Dollar General Stores.
2.
Find out who your city's
public relations officer
is.
Connect with them and make sure they know who you are. If you want to work with your city in any aspect, they are usually the point of entry.
3.
Ask the public relations officer whom you need to contact to have a day proclamation made.
In our case, it was the
mayor's administrative assistant
, but in your city, the person or office you need to contact may differ.
4.
Write up a request for the proclamation.
Your public relations officer should be able to tell you if there is a specific form you fill out and submit for the declaration or if you sent in a request for the declaration. You are not writing out the proclamation itself at this stage. In fact, you will not write the proclamation at all. You are simply writing out a request for the city to make the proclamation and give reasons why the city should do so. Below is what we sent in our request:
"Roleplaying games have grown from their birthplace in a basement in Lake Geneva, Wisconsin to a multi-million industry that provides the majority of the revenues and profits for Hasbro toys and are played by millions of people worldwide.

Carbondale, Illinois is the first place, outside of Lake Geneva, where the first role playing game, Dungeon & Dragons, was played, with the original rules playtested by the SUIC Strategic Games Society at the university in the mid-1970s.

One of the iconic artists for the Dungeons & Dragons game, who created much of the notable art for the game during the early 1980s, David Trampier, moved to Carbondale in the late 1990s and spent the remainder of his life here.

June 25th is Free RPG Day, an annual celebration of an American creation, the role-playing game, with hundred of locations participating by giving away free RPG items and running sessions of the game for new and current players."
5.
Follow up.
The city gets lots of emails and the office will likely not confirm they received your request unless you ask. We had to both times we asked for a proclamation.
6.
Appear at the meeting.
I have attended several city council meetings over the years and been amazed at the number of people or groups that have asked the city to proclaim something, then not bothered to show up when the proclamation is made. After doing the work, you ought to show up for the payoff.
7.
Make sure local media knows about the proclamation.
Local news is always looking for something offbeat and local as that attracts more readers. We always see an uptick in customers after a news story appears about the store.
Have you had success working with your local government? Contact
castleperilousgames@gmail.com
with your positive or negative stories.
The opinions expressed in this column are solely those of the writer, and do not necessarily reflect the views of the editorial staff of ICv2.com.