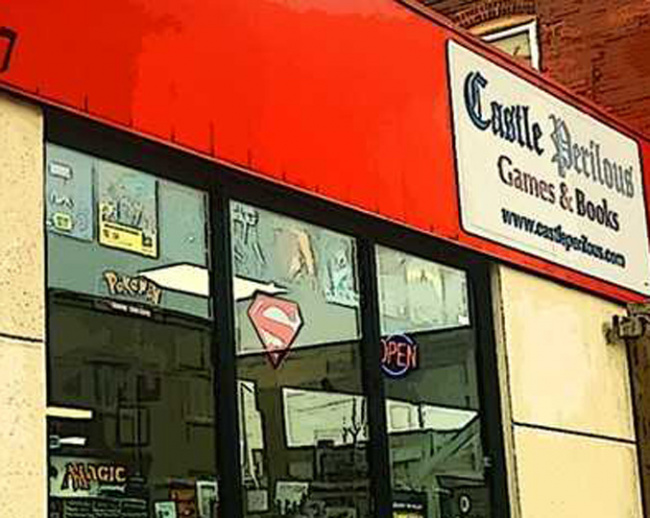 Rolling for Initiative is a weekly column by Scott Thorne, PhD, owner of Castle Perilous Games & Books in Carbondale, Illinois and instructor in marketing at Southeast Missouri State University. This week, Thorne discusses three things for which he's thankful.
The U.S. recently celebrated its July 4th holiday, and it got me to thinking about things for which I should be grateful. Normally, one does that at Thanksgiving here in the U.S., but I've found it a good practice to reflect on one's blessings far more often. So, without further adieu:
My Store Staff. I managed to run the place by myself for the first 10 years in operation, then as it got busier over the years, sales increased, as did profits. I found myself able to invest in hiring other people to work the cash register, deal with customers, and handle other work. As someone once said, "It is better to work on your business than at your business," and hiring store staff to work the floor was one of the smartest decisions I ever made (and I have hired what I consider some of the best staff around). With about half of them out with COVID currently, I have worked the cash wrap more in the past week than I have in the previous year, which helps reacquaint me with the duties of floor work but does take me away from the behind-the-scenes work that keeps the store running.

Distributor Sales Representatives. Distributors make running and restocking the store a lot easier than it would be otherwise. Over the last few years, we have had to order direct far more often than I had to 20 years ago. Back then, I could get all my product lines from The Armory and Chessex, and after the two merged, Alliance (which, incidentally, the new "alliance" between the two former competitors gave the new entity its name). Now, to get everything, I put orders in with Alliance, ACD, Southern Hobby, Games Workshop, Asmodee, and dozens of others and could not do so without the assistance of sales reps like Brian Sirois at Alliance, Scott Johnson at ACD, Layne Plummer at Southern Hobby, Danny Smith at Games Workshop and Jordan Milano at Asmodee. I hope your sales reps do as good a job for your store.

Games Workshop, Konami, The Pokemon Company International, and Wizards of the Coast. Most store owners will complain about one aspect or another of the companies and point out things that we think they could do better. Lord knows, I do it often enough (see "Suggested Changes for Magic the Gathering Releases"). Stepping back, it is amazing how much support those companies give to stores. Consider the amount of free booster boxes WotC and The Pokemon Company International give out with prerelease events, and the Back to Duel promotion Konami has run for months for Yu-Gi-Oh! That is thousands of dollars of free product and promotional materials every year. Meanwhile, Games Workshop will offer free racking for stocking their product and even offers company credit to stores purchasing from them. We have used that credit to get bags from them as well as getting store bags, t-shirts and stickers printed (including the GW logo, of course).
On a somewhat related note, it is nice to see a company supporting its employees the way Steve Jackson Games does. After the SCOTUS reversed the Roe vs. Wade decision, Steve Jackson posted to the Daily Illuminator how his company would respond should its employees need any help. Here's hoping we see other companies in the game and comic industries respond similarly.

The opinions expressed in this column are solely those of the writer, and do not necessarily reflect the views of the editorial staff of ICv2.com.