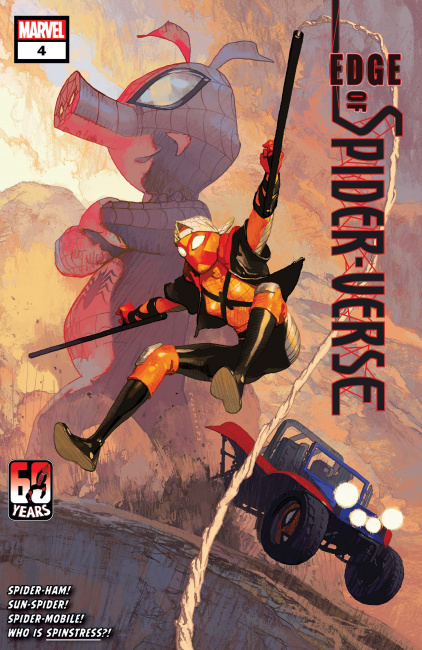 Confessions of a Comic Book Guy is a weekly column by Steve Bennett of Super-Fly Comics and Games in Yellow Springs, Ohio. This week, Bennett discusses
the current status of the Spider-Verse in-depth.
I'm already on record as not exactly being a big fan of the Spider-Verse (see "Maybe It's The Comics"). Oh, I loved the movie Spider-Man: Into The Spider-Verse and am looking forward to seeing its sequel, Spider-Man: Across the Spider-Verse II (even if it does mean having to wait until March 2024). But as far as I was concerned, the whole notion of multiple Spider-People was yet another one of those "big ideas" (Peter Parker temporarily becoming a tech billionaire, Spider-Island) that was more suitable for Superman than Spider-Man. Each one was another step that took the character further away from his street-level roots.
However back in July (see "A Disabled Spider-Person Swings Into Action") I wrote how I was interested in seeing how disabled writer Tee Franklin handled Sun-Spider, a disabled character created by Dayn Broder in Edge of Spider-Verse #4. The short answer is in a brief number of pages, Franklin creates a well-rounded character that struggles with people's reaction to her disability as much as she does with her disability. But just as importantly, it's a solid Marvel-style story with action, a sort-of super villain, and great art by Jethro Morales; let's hope Marvel gives them both more work in the future.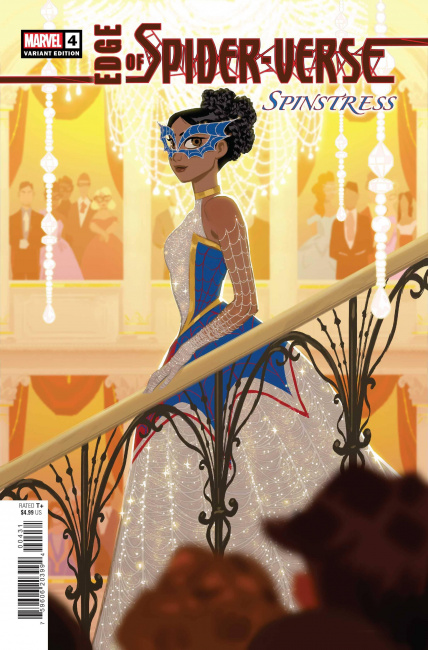 Among its other contents is "Once Upon A Spider: The Spinstress Princess," written by David Hein with art by Luciano Vecchio, which tells the fairytale of Princess Petra becoming the magical Spider-Person Spinstress. It's the perfect mash-up of the Disney Princess ethos and Marvel Mythology that's fun, funny, and sweet. I've long been a fan of Argentinian artist Vecchio and his work here is absolutely beautiful, it makes me want to see his upcoming "three-issue magical-superhero series
Sereno"
(see "
CEX To Publish Luciano Vecchi's 'Sereno
'").
There are of course no guarantees, but it's possible that Disney has future plans for Spinstress. One sign of this is someone went to the expense of giving the comic its own music video. Hein collaborated with composer and lyricist Zack Zadeck on a song for the comic, which was recorded by Arielle Jacobs, the current Princess Jasmine in Broadway's Aladdin. See (and hear) for yourself: Arielle Jacobs sings David Hein's new Marvel Comic Edge of Spider-Verse Spinstress. So, retailers might just want to hold onto some copies of Edge of Spider-Verse #4, especially ones with the Luciano Vecchio variant cover.
But, the biggest surprise in the comic was a clever, very funny Spider-Mobile story by Dan Slott and Ty Templeton. I was much amused by pun names like "Peter Parkedcar '' and, "Mr. Reo" for Mysterio, but mostly I was taken aback by the art.
I've been a fan of his since Stig's Inferno back in the 80's but anthropomorphized cars are so outside his usual style I had no idea Templeton had drawn the story until I read the credits.
The opinions expressed in this column are solely those of the writer, and do not necessarily reflect the views of the editorial staff of ICv2.com.