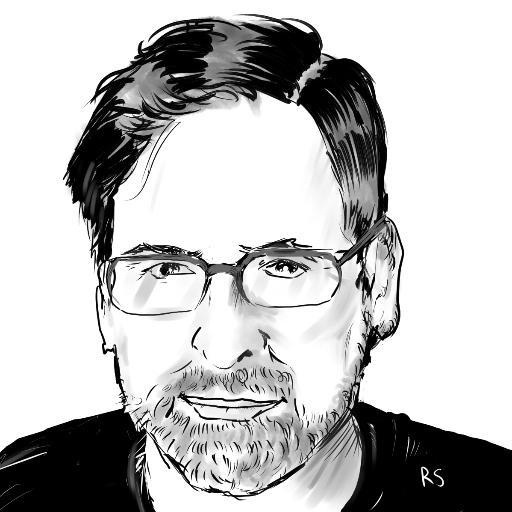 The holiday season is, as they say, right around the corner, especially for folks more diligent than I am about getting their gift shopping underway early. So what do publishers have in store for fans and collectors this year? Fortunately, there's no shortage of fun items for every budget.
I'd recommend looking first at any of these deluxe editions I covered back in September (see "
The Deluxe Edition Arms Race Continues to Escalate
"), featuring great presentations of archival material ranging from Marvel Silver Age classics to EC Comics to masterpieces of European bande dessinee.
Here are a few others for consideration.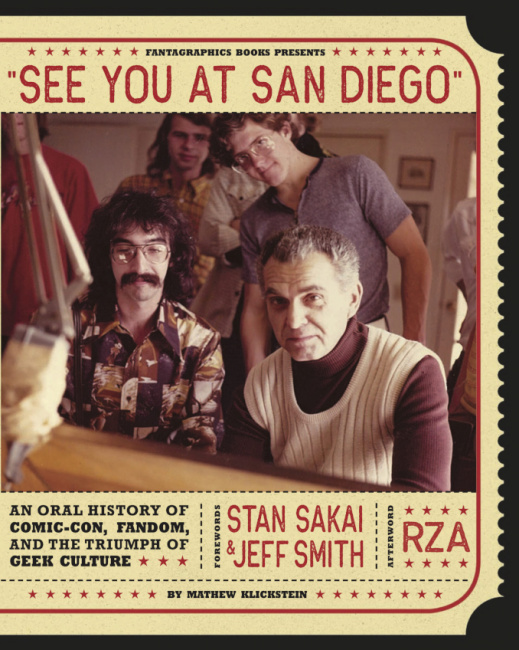 For the "why don't they make comic cons like they used to?" fan.
If the fan in your life is old enough to remember the good old days when comic conventions were motley assemblages of freaks and geeks in hotel ballrooms and not giant multimedia extravaganzas, definitely pick up
See You In San Diego,
an oral history of the San Diego Comic-Con from its earliest days, by Mathew Klickstein. The book codifies his podcast series from last year, helpfully identifying the several dozen comic fans, pros and interested third parties, and bundling the whole package with a trove of behind-the-scenes photos and artifacts. Fantagraphics Books, $39.99.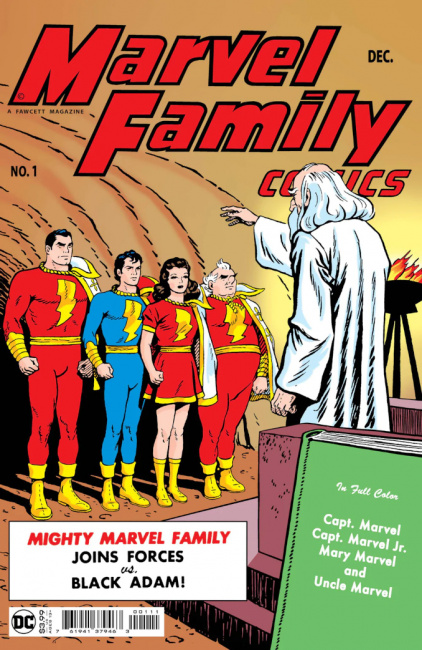 For the Black Adam completist.
In anticipation of the new Black Adam film, DC released an affordable facsimile edition of
Marvel Family
#1, featuring the 1945 debut of Teth Adam by C.C. Beck and Otto Binder. The Fawcett Captain Marvel stories were some of the highlights of the Golden Age, with a charming ability to combine whimsy and high adventure. Liking the film or The Rock is absolutely not required to enjoy this classic, which should make a nice stocking stuffer. DC Comics, $3.99.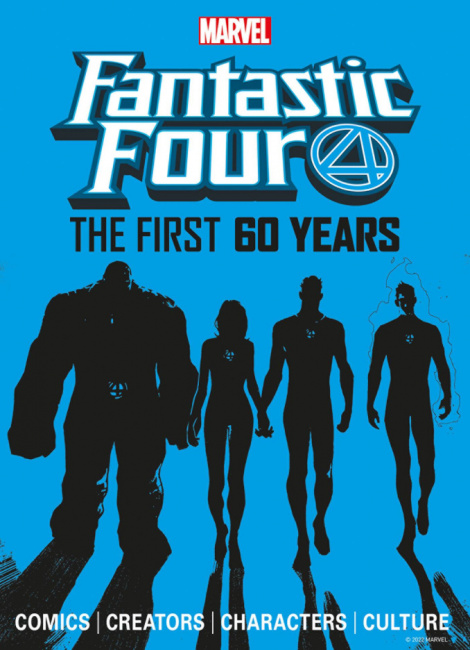 Titan adds to the Marvel Silver Age bookshelf with Fantastic Four retrospective.
Marvel Comics has licensed Titan Comics to deliver a year-late commemoration of the 60th anniversary of the team that launched the
Marvel Age of Comics
.
The Fantastic Four: The First 60 Years
is a deluxe hardcover that traces Marvel's first family of superheroic adventurers from the glory days of Jack Kirby and Stan Lee, through the 1980s renaissance of John Byrne, down to the current day. Packed with great and behind-the-scenes stories, this hardcover will delight current fans and old-timers alike. Titan Books, $24.99.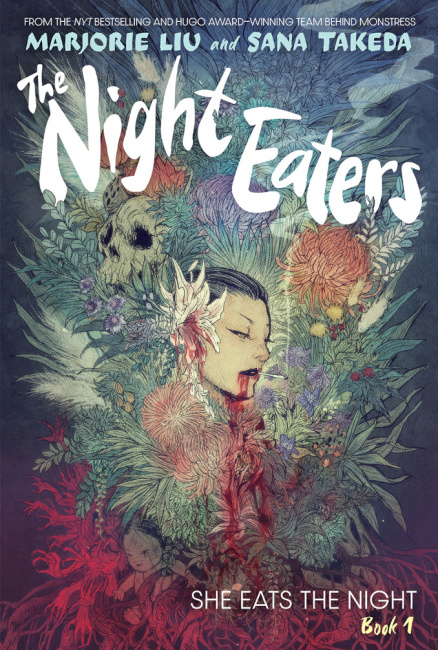 Abrams reunites the Monstress team with instant YA classic.
Marjorie Liu and Sana Takeda lit up the best-seller charts and awards stage with their fantasy-adventure series
Monstress
for Image Comics. Now they've launched
another dark fantasy
,
The Night Eaters Book One: She Eats the Night
, taking their talents in a completely new direction. This family drama of first-generation Asian immigrants takes a turn for the weird, with themes sure to resonate with teens and readers of all ages. Abrams Books, $24.99.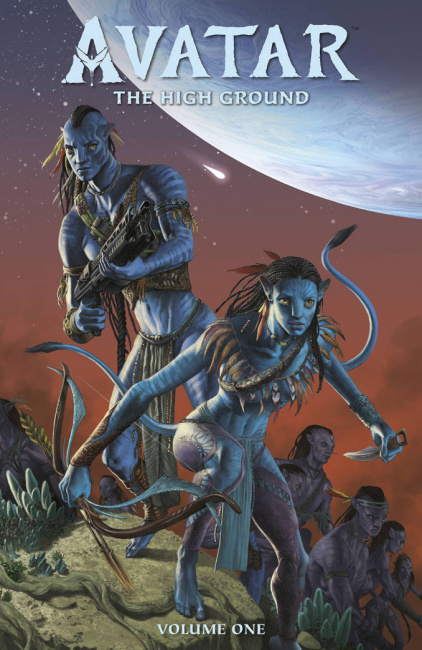 Go big and go blue with Avatar prequel from Dark Horse Books.
Are audiences craving a return to James Cameron's 2009 mega-blockbuster
Avatar
? I guess we'll find out in a couple of months when
Avatar: The Way of the Water
hits theatres. In the meantime, Sherri Smith and Guilherme Balbi have adopted an Avatar prequel screenplay from Cameron himself in
Avatar: The High Ground Vol. 1
, a 90-page graphic album that reopens the box of Pandora (the Avatar planet, get it?) and leads into the new movie. Dark Horse Books, $24.99, due out in late November.
Screw the censors, support Oni Press.
Oni Press has had a rough go of it this year, including having its groundbreaking graphic novel
Gender Queer
by Maia Kobabe land in the center of the culture wars. Well, Oni is still around and still putting out well-crafted YA work for open-minded readers. One that might hit home is
Dancing on the Volcano
, an original graphic novel from Floor De Goede about a cartoonist travelling the world without his boyfriend – a universal tale of the heartache of long-distance relationships. Oni Press, $29.99.
Support your local artist.
Let me end this column with my annual appeal to give the fan in your life the gift of art. There are no comics without art, and no art without artists who can afford to eat. Conventions, Instagram, Etsy and your local community are full of artists doing gorgeous original works, and I'm sure most of them would love to hear from you with your special requests and commissions. Be generous, be polite, be patient, and get rewarded with something truly unique and special.
I'm sure there are dozens of other cool things I missed, but be sure to check these out along with the deluxe editions linked above.
The opinions expressed in this column are solely those of the writer(s), and do not necessarily reflect the views of the editorial staff of ICv2.com.

Rob Salkowitz (@robsalk) is the author of Comic-Con and the Business of Pop Culture.
For more great suggestions for gifts merchandising this holiday season,
click here
.