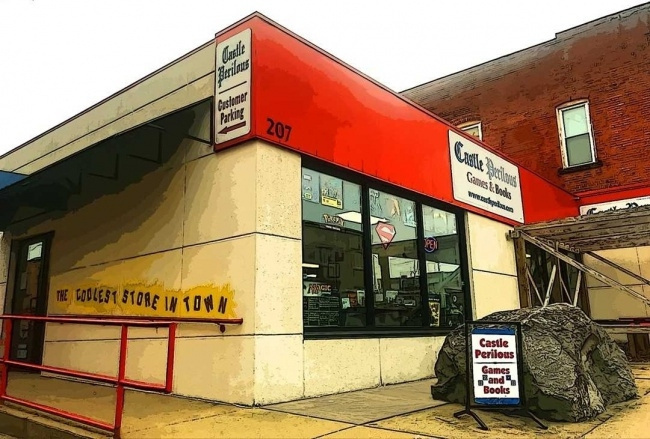 Rolling for Initiative is a weekly column by Scott Thorne, PhD, owner of Castle Perilous Games & Books in Carbondale, Illinois and instructor in marketing at Southeast Missouri State University. This week, Thorne looks ahead at the odds for the upcoming Dungeons & Dragons
movie.
As I mentioned in last week's column, I do not have high hopes for the
Dungeons & Dragons
movie:
Honor Among Thieves
(see "
D&D Fireside Chat and RIP Kim Mohan
"). Much like many movies today, I think it will do decently the first weekend of release and then drop off rapidly. At least it will make it into theaters, unlike the second and third
D&D
movies ( I really did not know, until looking up the history of the
D&D
movies, that there was a second film, see "
Judge in D&D Case Urges Settlement
").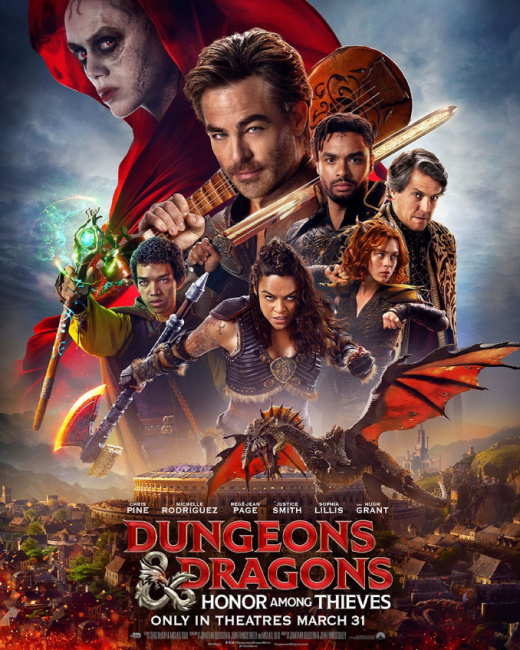 I hope I am wrong, but the problem I see with a
Dungeons & Dragons
movie is that it is not based around a particular worldview or characters or a creator's vision. Instead
, Dungeons & Dragons
reflects the vision of millions of people who use the rules system to create their own worlds. You can use one of the worlds created over the past 40+ years and have fun with it or you can create your own.
Mention you are playing
Dungeons & Dragons
to someone familiar with the game and one of the first questions is, "Which edition?" I know of games in our area running using the 1st, 2nd, 3rd (never 4th and 5th edition) rules. A set of rules is not something you can reasonably reflect in a movie.
Likewise, there are a number of different settings in which a Dungeon Master can run a game, such as
Faerun, Greyhawk, Spelljammer
,
Eberron
or a home brew campaign. While each uses the common
D&D
tropes such as character class, character species and creature types, they vary widely in terms of interpretation.
Since
D&D
is a rules system and not a "universe," filmmakers could arguably put any fantasy trope into the movie they wanted. A filmmaker could not do that with a Marvel movie or a DC movie or a
Star Trek
series or even a new season of
Bridgerton
as those have established storylines and characters that make them "believable." Spider-Man always gets his powers from the bite of a radioactive spider while Batman takes up his crusade after his parents are killed. There is no storyline or book, so to speak, to draw upon for
Dungeons & Dragons,
so one could reasonably make almost any fantasy movie and call it
Dungeons & Dragons
.
Looking at the trailer for the film (see "
New D&D Movie Posters
"), it does give me hope that
D&D
players will recognize aspects of the game. I remember watching the first
D&D
movie and the only thing I saw that differentiated it from a generic fantasy movie was one scene that had a beholder in the background. In the trailer, we get an eclectic assortment of character classes (no cleric that I can tell, though) and species as well as appearances by classic
D&D
creatures such as the black dragon, owlbear and mimic, which does give me hope. Maybe a cameo by Elminster or Drist Do'Urdan would help to bring the movie further into a
D&D
-specific universe and farther from a generic fantasy one.
Games are notoriously hard to translate into other media.
Battleship
failed pretty quickly and we have waited since 2008 for the long-delayed
Monopoly
movie (see "
Kevin Hart will Star In Monopoly Movie
"). I certainly hope the movie does well but the track record is not good.
Next week? A look back at 2022.
Your comments? Send them to
castleperilousgames@gmail.com
.
The opinions expressed in this column are solely those of the writer, and do not necessarily reflect the views of the editorial staff of ICv2.com.