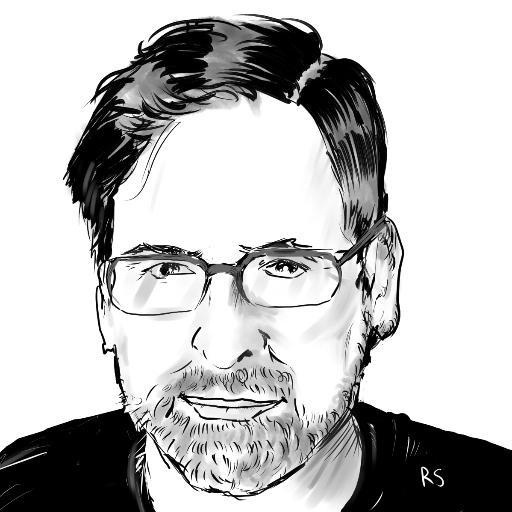 For the past 15 years, longtime industry stalwarts have lamented the transformation of conventions from comics-centric spaces to amorphous entertainment spectacles focused on celebrity appearances, Hollywood hype and other distractions. At the same time, we've all been transfixed by their incredible growth. "If only we could have a convention at the scale of today's biggest shows, but just focused on
comics
!"
This year's San Diego Comic-Con proved that sometimes dreams can come true, even if one person's dream is another's nightmare. Despite fears to the contrary that the strikes and Hollywood's general financial malaise would lead to implosion, SDCC 2023 proved that the industry's premier event has a path forward even if the world takes a collective step back from the Peak Geek era.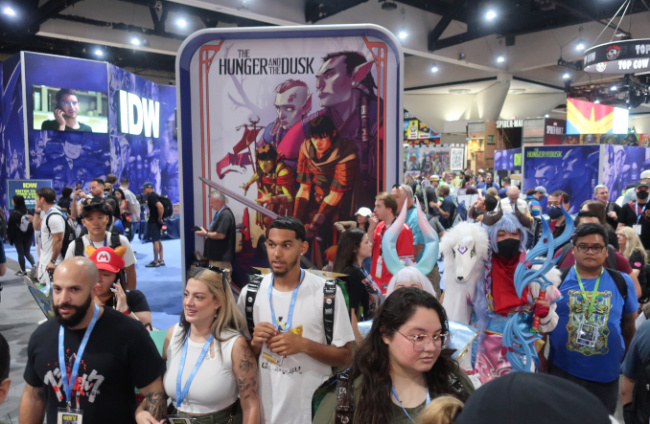 A glass half empty, all the way full.
News leading up to the Con was dominated by the big studios' decisions to skip Hall H this year, or else to cancel scheduled appearances because of SAG-AFTRA rules prohibiting actors from promoting struck properties. Despite the lack of star power, the convention center and its environs were still in full bloom with massive banners draped over hotels, popups and activations in the Gaslamp and on the harbor path, and area businesses joining in the SDCC excitement.
On Wednesday and Thursday, fans started to show up in their multitudes. According to the convention, all 2023 badges had sold out within an hour of the on-sale months ago, and very few had opted to accept refunds (and sacrifice "returning attendee" status) ahead of SDCC's May deadline. Under-the-table badge sales online were reportedly brisk, with four-day badges asking, and receiving, four figure bids.
The traditional tents outside Hall H were set up despite the lack of marquee attractions, and at points on Friday and Saturday, were filled to capacity with the line extending beyond the Hilton and along the harborside. It was far from full MCU frenzy, but honestly that's a good thing. Ditto for the exhibit hall floor, which likewise felt a bit off the highs of the late 2010s, more like last year's wary but exuberant first post-COVID show.
Showbiz no-shows don't slow show sales.
On Sunday I took my traditional walk around the show floor making inquiries at different booths to see how exhibitors felt about sales relative to costs and expectations. Typically this yields mixed results depending on what the exhibitors are selling and whether their customers were well-represented in the show's attendance.
This year, everyone I talked to was not just happy but over the moon. Geek apparel entrepreneur Tony Kim (
The Hero Within
) reported record sales at his booth and massive turnout at his new sponsored café in the Gaslamp.
New publisher DSTLRY sold out mass quantities of their debut anthology including many in Con-exclusive deluxe format, despite hefty cover prices. Independent creator Eric Dean Seaton (
The Legend of the Mantmaji
), in the back of Hall B, had to reorder inventory of his graphic novels after selling out by Thursday afternoon. Several artists in Artist Alley echoed the favorable reviews, and I didn't hear anyone complaining about lack of business.
Collectible comic dealer tables I spoke to also reported brisk business and thick crowds, with several saying this was their best SDCC in recent memory. There were more new publishers and first-time exhibitors set up throughout the hall, taking advantage of the absence of longtime exhibit hall staples like Sideshow Collectibles and Amazon's comiXology.
It will be interesting to see if the San Diego Chamber of Commerce conducts an economic impact study of the show this year. On one hand, the lack of armies of studio staff, high rolling stars and executives probably hurt luxury hotels and restaurants. On the other hand, many of the more affordable taco joints and watering holes in the Gaslamp were packed every night. The Lyft driver who took us to the airport Monday said he'd had over 35 rides on Saturday, and that Con weekend brought more business than an entire month.
Panel attendance up, fan satisfaction high.
One byproduct of fewer panels in the big rooms like Hall H, Ballroom 20 and the Indigo Ballroom is that fans sought out other programming (and places to sit down and relax). As a result, a lot of special-interest panels filled up and creators, publishers, experts and smaller companies got to reach a new audience. Even the academically-oriented panels, held offsite at the San Diego Public Library that is unfortunately the site of a lot of tents and encampments, pulled more people than usual.
One sign of how well this year's show landed with fans is that Sunday afternoon's Comic-Con talkback panel, which is usually the place the most vocal critics of the show go to complain to the organizers, was a virtual lovefest. The main issue with SDCC is the ongoing challenge of improving accessibility for fans with disabilities, but even those concerns seemed a bit more muted this year. One programming official observed afterward that Hall H and line management is usually the biggest sore point for attendees. This year, for better or worse, it was a non-issue. Instead the most outrageous problem was a scammy offsite screening where organizers refused to honor presold exclusives and left fans stranded after bussing them miles from the city center. Con officials were alarmed and promised swift action.
Is Comic-Con about comics again?
We won't really know the impact of this year's Hollywood outage on SDCC until at least the badge on-sale for 2024 later this year. Surely a certain number of fans are likely to opt out of the expense and hassle of attending SDCC if they can't be guaranteed the possibility of seeing Chris Hemsworth in person from 80 rows back or get invited to an exclusive studio-run event. Surely some of this year's attendees went home disappointed by something or other, even if they're ashamed to say so in public.
The fact is that, from Comic-Con's perspective, it doesn't matter if there are 10 fans waiting to take that badge or only four. It doesn't matter if the show sells out in a day rather than an hour if it sells out. It may even be better in the long run if the 150-odd thousand attendees represent a slightly different mix of interests and enthusiasms than the gawkers and line-standers who have pumped up Comic-Con for the past decade and change. If SDCC can sustain its scale on first-order fan passion, the studios or others interested in getting in front of that audience will come, as they always have.
This year's show proved that SDCC can succeed without Hollywood, and without being the center of the showbiz media universe, but it proved it out of necessity. Next year it can prove it on purpose. And that will be interesting for both old fans and new ones.
The opinions expressed in this column are solely those of the writer, and do not necessarily reflect the views of the editorial staff of ICv2.com.

Rob Salkowitz (@robsalk) is the author of Comic-Con and the Business of Pop Culture and a 2023 Eisner Award nominee for comics journalism.