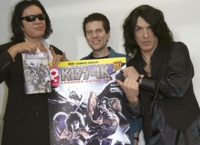 Gene Simmons and Paul Stanley of the rock group Kiss are partnering with Scott Mitchell Rosenberg's Platinum Studios to create The Kiss Comics Group, which plans to publish the Kiss 4K comic book and then branch out to produce Web comics, mobile phone content and Kiss comics-related merchandise.
The Kiss 4K comic, which chronicles the transformation of the four rockers from Kiss into galaxy-saving heroes, will be available in two formats -- regular comic book size and a Guiness Book of World Records qualifying oversize format that will sell for $50. The Kiss Comics Group plans to launch the Kiss 4K comic simultaneously in the U.S., Germany, Spain and France.
The Kiss rock group has had a long association with comic books that extends back the band's heyday during the late 1970s, when they had their own issues of Marvel Super Special. During the 1990s the band appeared in the much darker Kiss: Psycho Circus published by Todd McFarlane, and in 2002 the group appeared in a three-issue series from Dark Horse written by Joe Casey (X-Men).