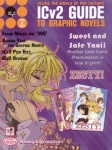 An ICv2 Release. ICv2 has announced the release of ICv2 Guide #40: Graphic Novels, which contains an essay on the graphic novel market in 2006, a survey of the top graphic novel releases for the second quarter of 2007, ten pages of reviews by noted librarians and the ICv2 staff, and a guest column from librarian Kat Kan.
The new ICv2 Guide contains lots of sales information from 2006 including lists of bestsellers in key categories such as manga, traditional American genre comics, and alternative comics as well as ICv2's 'Pick Hits to Click,' a designation given to those Q2 releases ICv2 feels will have the best chance of succeeding.
For the first time ICv2's Graphic Novel Guide provides reviews of a mixture of classic and upcoming releases. Retailer Christopher Butcher of The Beguiling in Toronto joins the corps of reviewers, which also includes a number of librarians and members of the ICv2 staff.
ICv2 is the undisputed expert in the graphic novel field and publishes news and information on pop culture products in the anime, comics, games, toys, and movie and TV merchandise categories daily on its Website, ICv2.com, and in its magazines, the ICv2 Retailers Guide to Anime/Manga, the ICv2 Retailers Guide to Graphic Novels, and the ICv2 Retailers Guide to Games. ICv2 also provides marketing, distribution, and general business consulting services to companies involved in the pop culture products industries.
The Guide is available free to retailers (send an email to DViau@icv2.com) and to others for $10 plus postage and handling via the ICv2 online store (click here).