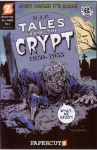 Papercutz, the youth-friendly publisher of the Hardy Boys and Nancy Drew graphic novels, is reviving EC Comics' legendary flagship title, Tales From the Crypt, with all new horror comic adventures narrated by the Crypt-Keeper, Old Witch, and Vault Keeper. Each 48-page full color issue will feature two 20-page tales of terror in the EC tradition and sell for $3.95.
Papercutz Editor, Jim Salicrup, explained the apparent contradiction of a youth-oriented imprint publishing the very comic book series that Dr. Wertham used as example 'A' to blame comics for juvenile delinquency in the 1950s as follows: 'Everyone loves scary stories, especially kids, and the Tales From the Crypt style of dark humor with shock endings truly appeals to all ages, not unlike Harry Potter or Buffy the Vampire Slayer. Despite the furor over horror comics in the '50s that led to the demise of most of the EC line, people forget that those comics were created for all ages. Ironically, most of the original Crypt comics would be approved by the Comics Code today.'
The first issue of the new Tales From the Crypt, which ships in June, features two major stories, 'Artistic License,' by horror author Marc Bilgrey, and 'For Serious Collectors Only' by Rob Vollmar (Bluesman). Papercutz editor Jim Salicrup will write the introductory GhouLunatics, while Kyle Baker provides the cover to the first issue in the resurrected series.