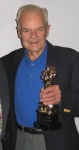 The winners of the first annual American Anime Awards were announced at the New York Comic Con on Saturday night. More than 43,000 fans voted online for their favorite anime, voice actors, and manga (see 'Finalists Announced for American Anime Awards'). Fullmetal Alchemist was clearly the fan's choice, winning five awards -- a performance that is in line with ICv2's ranking of Full Metal Alchemist as the #1 TV anime series of 2006 in the ICv2 Guide #39: Anime/Manga.
The Gainax cult hit comedy FLCL was somewhat of a surprise winner in the 'Anime Comedy' and 'Best Short Series' categories given that it was made in 2000 and first released here in the U.S. five years ago in 2002 (though Synch Point just put out an Ultimate FLCL Edition in January). Clearly the devoted following that the series has developed over the years helped put it in first place. Similarly hardcore fan support also played a role in Fruits Basket winning the 'Best Manga' award, even though market analysis demonstrates that Fruits Basket is second in sales to Naruto.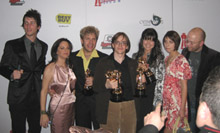 Peter Fernandez, a key figure in the early history of American anime, who wrote, directed, and voiced the lead roles in Speed Racer along with many other achievements in a long career received a special award for Outstanding Achievement in Anime.
Here are the first annual American Anime Awards Winners:
Best Actor
Vic Mignogna (Full Metal Alchemist)
Best Actress
Mary Elizabeth (Ghost in the Shell: Stand Alone Complex)
Best Actor in a Comedy
Dave Wittenbery (Zatch Bell)
Best Actress in a Comedy
Debi Derryberry (Zatch Bell)
Best Cast
Full Metal Alchemist
Best DVD Package Design
Full Metal Alchemist
Best Anime Theme Song
'Rewrite' from Full Metal Alchemist
Best Comedy Anime
FLCL
Best Anime Feature
Final Fantasy VII: Advent Children
Best Short Series
FLCL
Best Long Series
Full Metal Alchemist
Best Manga
Fruits Basket