Despite big crowds and the attendant lines to get into the show, the second year of New York Comic Con went off smoothly, with the careful preparations of show organizers (see 'Reed Fine-Tunes NYCC Ticket Sales') leading to over 40,000 happy (unique) attendees. The smoother operations were in sharp contrast to the 2006 show, when the pent-up demand for a major pop culture show in New York produced crowds that exceeded the available space at the Javits Center (see 'Huge Crowds at New York Comic Con').
Demand also exceeded the supply of tickets this year, but with early cut-offs of advance ticket sales, organizer Reed Exhibitions was able to ensure that all ticketed attendees had access to the show.
The trade day on Friday set new records for retailer, librarian, press, and other trade attendees. The preview night was crowded early, as the businesspeople mingled with the early arriving fans, but by the end of the evening, crowds thinned on the exhibit floor as attendees flocked to events featuring Stan Lee and Battlestar Galactica's Tricia Helfer and James Callis.
Lines on Saturday started to form hours before the 10 a.m. opening time and were not eliminated until after noon, but they moved relatively quickly. The show had about double the floor space this year, with wider aisles, larger booths, and more exhibitors in higher quality space on the top floor of the center.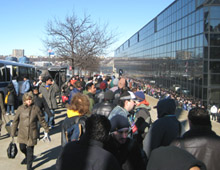 Artist alley space was off the main floor, but was jammed throughout the show, due not only to the appeal of the wide range of talent, but also to the fact that access to the autographing and gaming areas required passage through the 'alley.'
Book publishers took more space this year, and seem to be only a short step from bringing their big BEA booths.
Game companies were mostly grouped near the front of the hall, with more and bigger booths from both videogame and tabletop game companies than last year. Some manga and anime companies were near each other, with others scattered throughout the floor. Like the game companies, more exhibited this year.
Space will double again next year, with a move to April dates ensuring more moderate weather and a closer lead-in to the summer movie and selling seasons.
Exhibitors were generally happy with the results of the show (with the possible exception of some silver and golden age comic dealers we interviewed), with all looking forward to the continued growth that seems inevitable. In fact, it seems the only limiting factor of the New York Comic Con will continue to be the available space in the Javits Center, a woefully inadequate facility for the largest metro area in the United States.