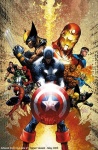 Driven by strong sales for Civil War and increased penetration of the bookstore market, publishing revenues for Marvel Entertainment were up 22% vs. 2005 in the fourth quarter of 2006 and nearly 18% for the year. But the gains in publishing were not enough to offset a major drop in licensing sales, which plummeted from $81.7 million in Q4 2005 to $25.5 million in Q4 2006, and from $230.1 million for all of 2005 to $127.2 million for 2006. The $56.1 drop in licensing revenue for the fourth quarter reflected the fact that Marvel had received a $50 million license fee for the extension of its agreement with video gamemaker Activision in Q4 2005. International licensing revenues were up substantially but the joint licensing agreement with Sony for Spider-Man yielded a paltry $4.1 million in 2006 versus $24.7 million in 2005.
Publishing revenues for Q4 2006 were $28.6 million versus $23.4 million in 2005 and $108.5 million for 2006 versus $92.4 million in the previous year. Marvel gave principal credit for the higher Q4 publishing revenues to 'higher sales of trade paperback and hard cover books sold into the direct and book market channels.' Marvel's operating profit in its publishing segment was up to 41% in 2006 compared with 37% in 2005. According to Marvel, the increase in margin reflected the 'benefit of higher sales on a relatively stable cost structure.'
Lower operating margins in Marvel's toy segment took a major bite out of the major sales increase from $16.2 million in 2005 to $110.9 million in 2006. The lower margins and higher revenues were to be expected during a year in which Marvel produced its own toys as it transitioned from Toy Biz to Hasbro (see 'Marvel Inks 5-Year Deal With Hasbro').