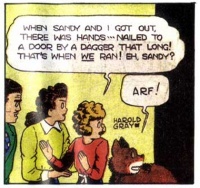 Dean Mullaney, who is editing the new reprint edition of Milton Caniff's classic Terry & the Pirates comic strip for IDW, has informed ICv2 that his next project with IDW will be a similar reprinting of Harold Gray's Little Orphan Annie. 'Just as Fantagraphics took up the reprinting of Krazy Kat just where we at Eclipse left off, so I plan to start the Little Orphan Annie reprints in the mid-1930s, where Fantagraphic stopped (more or less) so that collectors won't have buy the same material twice,' Mullaney explained.
With Dick Tracy, the recently announced Terry & the Pirates and now Little Orphan Annie, the rights to all of which were acquired from Tribune Media Services, IDW will have the 'crown jewels' of the world famous Chicago Tribune comics section, making the California-based company a major player in what has become a new golden age of comic strip reprints.
Mullaney told ICv2 that he intends to publish Little Orphan Annie in a similar hardcover format to the one he is using for Terry & the Pirates with the Sunday pages reprinted in full color, though in the case of Little Orphan Annie each volume will contain an entire complete storyline rather than the 2-years-per volume format he is employing for Terry & the Pirates.
According to Mullaney, 'Gray did his most interesting work from the mid-30s through the mid-40s so we are going to tackle the best stuff first.'