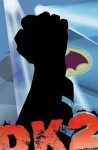 In the midst of a recession and in the wake of the economic turmoil created by the 9-11 attacks, the pop culture retailers surveyed by ICv2 reported strong sales in December. Our unscientific survey of retailers from coast to coast found that all but one of our respondents had greater sales in December 2001 than in the year ago period. The strong performance of pop culture stores stands out in stark relief to the general trends in retail at the end of this very difficult year. Stores did well in spite of the fact that aside from The Dark Knight Strikes Back (see 'DKSA Sales Outstanding'), there were really no blockbuster items. Certainly there was no 2001 equivalent to a sales engine like Pokemon. For most stores strong comic and graphic novel sales made up for weaker than normal sales of toys. Let's take a look at some of the categories.
Comics and Graphic Novels
No surprise here, The Dark Knight Strikes Back was a huge winner for all the stores that carried comics, with many stores reporting that Frank Miller backlist comic titles also did very well. But the strong sales were not limited to just the Dark Knight. Buddy Saunders of Lone Star Comics in Arlington, Texas noted that 'Marvel just keeps picking up stream,' while Scott McGovern of Dragon's Den in Poughkeepsie, New York marveled at the continuing strong sales of Image's G.I. Joe, which he compared to the Energizer bunny and cited as a strong seller even while noting that Image did not publish an issue of the book in December. The Marvel 9-11 books were also mentioned as contributing to a strong season.
In graphic novels, more than a few retailers cited strong sales of Frank Miller's vintage graphic novel, TheDark Knight Returns, which points up the importance of promoting backlist graphic novel and trade paperback titles tied to today's hits. For Saunders, the manga category remained vibrant with a strong performance from Dark Horse's Akira graphic novels and consistent sales from the increasingly numerous How to Draw Manga titles. At the Golden Apple in L.A. dthe best-selling book was Devil's Advocate: The Art of Coop, while at Hi De Ho Comics & Books in Santa Monica, Fantagraphic's Ghost World was the best-selling graphic novel. Other top selling graphic novels/ art books cited by retailers included Wonder Woman: Spirit of Truth and Michel Gagne's Freaky Fauna.
Games
Several retailers mentioned the Dragonball Z CCG as their top-performer in the games category, while another cited Comic Images' WWF Raw Deal CCG. Sabertooth Games' Warhammer 40K CCG has been an exceptional performer, topping the sales of the Lord of the Rings CCG in some venues. Though this category appears to be down somewhat from the glory years of Pokemon, retailers appeared generally satisfied with sales coming from a number of different CCGs (including Pokemon & Magic) rather than from just one. Several retailers were disappointed in the sales of the Games Workshop LOTR miniatures game, which met considerable price resistance.
Lord of the Rings
The only negative comments we received about LOTR merchandise concerned the Games Workshop Miniatures game. Stores that ordered the Topps trading cards reported strong sales, and the toys have also sold quite well in the stores that reported to ICv2. Two stores reported strong sales on the Bantam re-issue of David Wenzel's Hobbit Graphic Novel (originally published by Eclipse and currently available from Ballantine). Joe Field of Flying Colors noted 'Even though the mass market bookstores all seemed to have this item in deep quantities, I think our store performed well with this book because of the staging the book got here -- positioned with other LOTR merchandise and books in a store atmosphere that fans of the movie like, rather than in the big box sterility of a Barnes & Noble.' Never forget the power of 'boutiquing' areas of your store -- spotlighting groups of related products and placing them together even if they cross categories (games and comics, books and toys, backlist and frontlist) that might normally be separated.
Toys
Though this category was down somewhat in most stores we heard from, there were some bright spots in addition to the LOTR figures.

Dragonball Z action figures continued to perform very well for the retailers who carry them.

DBZ is back on top of the Lycos 50 list of 'most-searched' topics on the Internet (see 'Dragonball Tops Lycos Searches for 2001'), and with some 500+ episodes of this long-running anime show available, this is clearly a property with very strong 'legs.' Certain items like the DBZ toys manage to do well in both the mass market and in independent pop culture stores, while mass market exposure tends to make merchandise from other properties wither in pop culture venues.

In reaction to price, timing, and availability issues that hamper sales of many toys from mass market-oriented toy companies in pop culture stores, small companies producing collector-oriented toys have become an increasingly important part of the mix in many stores.

Sometimes the sales of offbeat items like the Sgt. R. Lee Ermey Screaming Drill Sergeant figure from Sideshow Toys are truly amazing.

Though this phenomenon might not be replicable in every store, the Screaming Sarge was a surprisingly strong performer at Hi De Ho Comics & Books in Santa Monica.