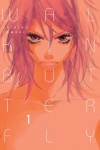 Aurora Publishing, the U.S. subsidiary of shojo specialist Ohzora (see 'DBD Signs Two More Publishers') will release its first manga titles in June. Ohzora releases more manga publications for women than any other publisher in Japan, and plans to use its U.S. subsidiary to publish translations of Japanese titles as well as to develop American manga properties for the world market. Ohzora has previously licensed its titles to U.S. publishers such as Dark Horse and Digital Manga; it now has a direct U.S. presence for the first time.
Aurora will publish shojo titles in standard manga format, both under its own brand and under its Deux imprint for yaoi titles. Aurora titles will retail for $10.95; Deux for $12.95.
The first Aurora release, in June, will be Walkin' Butterfly, a four-volume series by Chihiro Tamaki. Tamaki's first published work was 'Ryuta's 365 Steps' in 2001 in Shogakukan's Big Comic Spirits.
Aurora describes the artwork as 'Japanese cutting edge shojo manga,' that will appeal to sophisticated manga fans. The storyline, about a tall, misfit girl, is for older teens.
Two other launches under the Aurora imprint are planned for 2007. Flock of Angels is a three volume series by Shoko Hamada that tells the story of a fictional disease (Angelosis) that causes humans to grow wings. Nightmares for Sale is a two volume series by Kaoru Ohashi that collects horror stories that center around a supernatural pawnshop.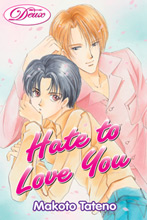 The Deux line will launch in June with Hate to Love You. This single volume work was the first yaoi title by Makoto Tateno, whose Yellow and Hero Heel were released in the North America by Digital Manga. Other notable titles by Tateno include D-Walk and Cute X Guy. Two high school boys from feuding families fight an attraction and each other. Aurora says that the title is less explicit than some other titles.
Two other Deux launches are planned for 2007. Spring Fever is two love stories in a single volume, by famed yaoi artist Yugi Yamada. I Shall Never Return is a five volume yaoi classic by Kazuna Uchida. The OAV of the same title is being released by Media Blasters under its AnimeWorks brand this week.