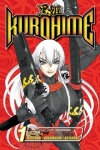 During the fourth quarter Viz Media is releasing four new shonen manga titles, including Yu-Gi-Oh! GX, a manga series from Yu-Gi-Oh! creator Kazuki Takahashi that is based on the Yu-Gi-Oh! GX anime series, which debuted in Japan in October 2004. Takahashi's manga adaptation premiered in Japan in December of 2005 and debuted in the American Shonen Jump in December of 2006. The 133 episode (and counting) Yu-Gi-Oh! GX anime quickly became darker than the original series, especially during the anime's second season when numerous Lovecraftian horror elements were introduced.
Though Yu-Gi-Oh! GX ($7.99), which is due out in November, is the best known of the new series, Tekkonkinkreet ($29.95), which comes out in September, may gain some notoriety -- it collects the three volumes of Taiyo Matsumoto's gritty seinen (Rated 18+) Black & White manga, (which Viz previously released separately here starting in 1999) in one 624-page omnibus volume. Matusmoto's manga was the basis for the Tekkonkinkreet anime movie, the first anime feature made in Japan to be directed by an American (see 'Tekkon Kinkreet'). The Tekkonkinkreet anime is heading for the U.S. and may in fact be screened here in limited release as early as mid-July. Viz Media's American edition of the Tekkonkinkreet manga will resemble the Japanese 'all in one' volume right down to the full color pull-out poster.
Also debuting in September is Masanori Katakura's Kurohime, a sexy (16+) 12-volume (and counting) Shonen Jump Advanced comedy adventure with plenty of action, magic and gender-bending curses. The fourth new Viz shonen series, Muhyo & Roji's Bureau of Supernatural Investigation ($7.99), which debuts in October, is also immersed in magic, though it is rated 13+ and resembles a manga version of Ghostbusters with a legal twist, since Muhyo and Roji are experts in 'magic law,' who help their clients deal with unwanted ghosts or spirit possessions.