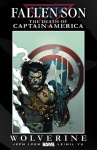 Civil War and its related titles have now arrived atop the Top 100 Graphic Novels list for April, giving the publishing event the top four graphic novels and two out of the top three comics for the month. Sales by Diamond on the comics side were solid on the two Fallen Son: The Death of Captain America issues that shipped in April, with over 157,000 for the Wolverine issue and over 140,000 on the Avengers issue.
Dark Tower: The Gunslinger Born #3, the Stephen King title from Marvel, held strong, down only a few thousand from its #2 sales.
For Dark Horse, the Joss Whedon penned Buffy the Vampire Slayer also held in fairly strong, with over 96,000 of the second issue sold by Diamond in May. Also, BTVS #1 remained popular with 16,800+ copies being reordered in April.
DC's World War III event did well, with all four issues selling around 95,000 issues.
Up titles outnumbered down titles in the top 25, a relatively rare occurrence, with 10 titles up vs. the previous issues and eight down (seven were one-shots or #1s). Up titles were spread around, with the most notable grouping DC's 52 issues, which are running up to the final issue. Justice League of America (which had two issues shipping in April) and Justice Society of America were also up for DC, with All Star Superman taking a significant dip after its long hiatus since the last issue was relased in January.
In graphic novels, Diamond sold over 19,000 of the Civil War trade paperback to comic stores in May, a number that's double the copy count of the top-selling graphic novel in a typical month.
Fruits Basket (Vol. 16) was once again the best-selling manga in the comic trade, with over 6,500 sold during May, the #6 graphic novel over-all.
Here are ICv2's estimates of the sales by Diamond Comic Distributors to comic stores on the top 25 comic titles in April:
157,291 Fallen Son: Death of Captain America--Wolverine
154,984 Justice League of America #7
140,783 Fallen Son: Death of Captain America--Avengers
132,481 Dark Tower: The Gunslinger Born #3
130,365 Justice League of America #8
127,798 Avengers: The Initiative #1
125,378 New Avengers #29
121,365 Mighty Avengers #2
98,441 Wolverine #53
98,069 Justice Society of America #5
97,073 52: Week 50
96,409 Buffy the Vampire Slayer #2
95,452 WWIII Part One Call to Arms
95,199 WWIII Part Two Valiant
95,171 WWIII Part Four United We Stand
94,934 52: Week 51
94,788 WWIII Part Three Hell is for Heroes
94,715 52: Week 48
94,681 52: Week 49
94,000 Justice #11
92,295 All Star Superman #7
81,764 Uncanny X-Men #485
74,841 X-Men #198
74,807 Superman/Batman #33
74,700 Fantastic Four #545

We are estimating actual sales by Diamond U.S. (primarily to North American comic stores), using Diamond's published sales indexes and publisher sales data to estimate a sales number for Batman (the anchor title Diamond uses in its calculations), and using that number and the indexes to estimate Diamond's sales on the remaining titles. We can check the accuracy of our numbers by comparing the Batman number that we calculate using multiple data points; our numbers for Batman are within 1/10 of 1% of each other, ensuring a high degree of accuracy.

For an analysis of the dollar trends in April, see 'Comic Dollars Continue Climb.'

For our estimates of actual orders to Diamond U.S. from comic specialty stores on comic books scheduled to ship during April, see 'Top 300 Comics Actual--April 2007.'

For our estimates of actual orders to Diamond U.S. from comic specialty stores on graphic novels scheduled to ship during April, see 'Top 100 Graphic Novels Actual--April 2007.'

For our estimates of actual orders to Diamond U.S. from comic specialty stores on comic books scheduled to ship during March, see 'Top 300 Comics Actual--March 2007.'

For our estimates of actual orders to Diamond U.S. from comic specialty stores on graphic novels scheduled to ship during March, see 'Top 100 Graphic Novels Actual--March 2007.'

For our index to our reports on the top comic and graphic novel preorders for January 2000 through April 2007, see 'ICv2's Top 300 Comics and Top 100 GNs Index.'