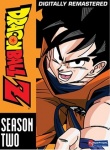 Atari has announced that Dragon Ball Z Budokai Tenkaichi 3 is in development for the Nintendo Wii and should be available for the 2007 holiday season. The first two Budokai Tenkaichi releases were the top-selling fighting games in 2005 and 2006 respectively and the popularity of the DBZ video games (over 10 million units sold since 2002) has helped keep the franchise hot. Last week FUNimation announced that, according to Nielsen's VideoScan, the remastered DBZ Season One ($49.98), the 39-episode Vegeta saga that was released in February, is the best-selling anime DVD release of 2007 so far.
FUNimation has restored and remastered the entire 291-episode DBZ series and plans to issue all of them in a series of season sets. The DBZ Season Two Set ($49.98), which includes all 35 episodes of the Namek and Ginyu sagas, was released on Tuesday and it marks the first time that the Namek episodes had been released on DVD. With pricing that rivals the best deals available for American TV on DVD releases, it is easy to see why the DBZ season sets are so popular.
As for the new Budokai Tenkaichi 3 videogame, the fact that it has been designed for the white hot Nintendo Wii (360,000 units sold in the U.S. in April) should translate into major sales during the holidays.