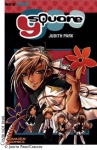 Yen Press announced it will begin publishing graphic novels for World of Quest, the basis for the new Kids WB series (see 'Kids' WB Adds 'World of Quest''). World of Quest Volume 1 was published by Komikwerks in 2006, and Yen will release one or two volumes per year going forward, with its first release, a new edition of the first volume, planned for November (144 pages, $9.99 MSRP, all ages).

World of Quest, features the adventures of a knight and the smart aleck prince he must protect from evil so they can save the prince's parents.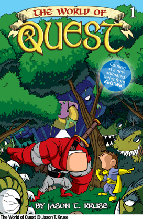 Yen has also secured North America rights to publish Y Square from Judith Park, 'the best-selling manga-ka in Germany.'

Available in December, Y Square tells the tale of a young man who can't attract women and finally asks his babe-magnet rival for pointers.

Yen's Co-Publishing Director Kurt Hassler says, 'Fans of Dramacon will eat this up.'


These titles are in addition to the previously announced Square Enix titles: Zombie-Loan, Alice on Deadlines, Black God and Spiral: Suiri no Kizuna, and

Nightschool from Svetlana Chmakova

(see 'Yen Press Details Launch Plans').


Hassler said that Yen will release over 50 graphic novel volumes in 2008.


Hassler also explained how Yen will deal with sound effects translations in its manga in a unique manner.

Rather than leaving the kanji (Japanese symbols) and adding the sound effect translation in parentheses or replacing the kanji with the English translation, Yen will print the phonetic version of the Japanese word and include the English translation in parentheses. For example, the kanji that sounds like 'don' in English will say both 'don' and '(bam).'


Yen also plans to run manga offerings on whiter paper than standard manga, and as previously reported will keep any original color sections in color, and will set cover prices at $10.99.


Hassler reports that response has been unexpectedly strong to With the Light: Raising an Autistic Child Volume 1 (see 'Yen Press to Publish 'With the Light'') which will release in September.

Barnes and Noble will be shelving With the Light in the child development section of its stores rather than with the other graphic novels.