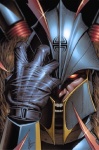 Variety is reporting that Transformers producer Tom DeSanto has optioned NC Soft's MMORPG City of Heroes for a live action feature film after which it could be turned into a TV series. DeSanto sees the property as a definite twist on the superhero genre, telling Variety: 'You haven't seen a big superheroes vs. aliens movie, I see this as the next big superhero franchise.'
The City of Heroes MMORPG launched in 2004 and survived a legal challenge from Marvel (see 'Marvel Sues Over City of Heroes'). Top Cow has published a City of Heroes comic (see 'Top Cow Does City of Heroes') and Eden Studios licensed a City of Heroes RPG (see 'City of Heroes RPG in November').
Tom DeSanto has had plenty of experience with adapting superhero comics. He was an executive producer on the first two X-Men films and is a writer producer on the forthcoming Teen Titans: The Judas Contract direct-to-DVD animated feature.