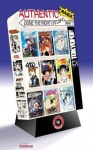 Tokyopop has announced plans for a special display program to support its launch of nine new manga titles in April. The nine-pocket display will hold four copies each of nine new manga trade paperback titles:
Chobits
Cowboy Bebop
Dragon Knights
GTO
Marmalade Boy
Mars
Planet Ladder
Real Bout High School
The Skull Man
Each is the first volume of a planned series of manga trade paperback collections. In keeping with Tokyopop's plans to package its manga titles in the 'authentic' Japanese right to left format (see 'Tokyopop To Publish Manga in Japanese Format'), the trade dress of the dump will emphasize the format with a header that declares, 'Authentic -- Done the Right (To Left) Way.'
The display program will be supported by special pricing. A full dump will sell to retailers for a flat price at the normal Tokyopop discount for the 36 $9.95 books. Also revealed for the first time, the packaging of the paperbacks will include 'authentic manga style belly bands.'
Tokyopop is planning a major expansion of its manga line this year (see 'Tokyopop Lands Eight New Properties for 2002'), and this level of trade support is also accompanied by an extensive consumer advertising and promotional campaign in a variety of venues, including Wizard, Anime Invasion, Animerica, and online fan sites.