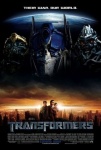 Even before the new Transformers film debuted in 10 overseas territories the Seibertron Website reported the announcement on Entertainment Tonight that Paramount and Dreamworks had given the go-ahead for a sequel.
Meanwhile over the past weekend the film, which opens in the U.S. today, stormed to the top spot in all 10 territories where it was released including Australia, Italy, Taiwan, and the Phillipines, while earning a stellar $34.7 million.
Meanwhile, there's a new controversy brewing in the States surrounding toy marketing to kids that tie into movies rated for more mature viewers, like the Transformers movie (see 'Advocacy Group Targets 'Transformers'').