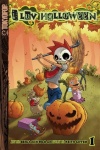 Tokyopop and MySpace.com have announced a partnership to run animated shorts based on Tokyopop's OEL (Original English Language) manga. The animated pilot episodes, which were produced by Hong Kong computer animation specialists Menfond Electronic Art, began airing this week and subsequent episodes will run on a weekly basis. A number of hip underground bands are providing music for the short films.
The animated shorts announced by Tokyopop are based on Keith Giffen and Benjamin Roman's I Luv Halloween, Nate Bowden and Tracy Yardley's Riding Shotgun, Hans Steinbach's Goth-tinged A Midnight Opera, and M. Alice LeGrow's Bizenghast. All the episodes will be available at a special Tokyopop portal (tokyopoptv) on MySpace.com.
Far East Movement and Interceptor are providing music for Riding Shotgun while Hibria and Carbon 9 are doing the same for A Midnight Opera. Divine Madness and Kissing Violet are lending their tunes to Bizenghast and Ben Chan has penned an original score for I Luv Halloween.