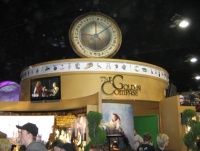 San Diego Comic-Con wrapped up on Sunday, after a blow-out success of a show that dwarfed all previous years in attendance, exhibitor expenditures, special events, and media coverage.

Three days of the show, Friday, Saturday, and Sunday, sold out, the first time the show has sold out any days in its entire 38 year history (see 'Interview with David Glanzer').


Film, television, and videogame money is flowing into the show in record amounts, with single company expenditures well into seven figures in some cases for the costs of bringing in talent, building and staffing a major booth, running a PR operation, creating lavish presentations for the panel rooms, parties, and staging special events on and off the show floor.

The highest expenditures are by movie studios, promoting both theatrical and DVD releases, with San Diego in the vicinity of the convention center now seeing ads on buses and rolling sign trucks, projected logos high on downtown buildings, and bars and clubs taken over by parties in the evenings.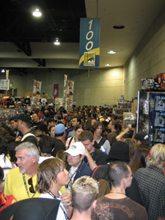 Indiana Jones, Golden Compass, Speed Racer
, Stardust, the Narnia sequel, and other upcoming theatrical releases were promoted with booth displays of varying magnitude.

And DVD releases such as Pirates of the Caribbean, 300 and other fare notable and not received a surprising amount of support.

Warner Bros. invited 10,000 fans free to Petco Stadium on Friday night to view 300 in support of the DVD release, after giving away heavy quantities of cardboard 300 shields to fans on the exhibit floor.

And of course the Grindhouse model, who spent an incredible number of hours at the Weinstein Company booth, was the buzz of the show.


The show kicked off last Wednesday night, with a crowded and fast-moving preview night from 6-9 p.m.

A lot of traffic on the south end of the hall was driven by figure collectors, crowded around the Hasbro store, the Star Wars store, and designer toy booths large and small.
High quality schwag was plentiful, with the Warner Bros. hugely oversize fabric bag seeming to have taken the bag wars nuclear.

But action was also strong on the north end of the hall, where comic and toy dealers, smaller comic publishers, and a wide variety of other exhibitors sold their wares.


Thursday was slower, and Friday very busy.

Trade activity was heavy, especially before the weekend, with the buyers for the largest specialty retail chains in a variety of categories and independent comic, game, anime, and toy retailers joining librarians and a significant international business contingent in working around the crowds to get business done.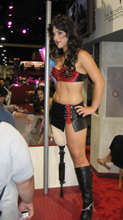 Saturday was surprisingly dead on the floor.

Sunday was scary crowded at times, with Aisle 100, at the far end of the convention center from the movie, videogame, and TV booths, so tight people could barely move at 12:30 in the afternoon.

The scene was similar throughout the floor.


A surprising mix of vendors did well, with the growth in attendance seeming to not only fill the panel rooms and booths promoting movie and TV projects, but also to buy from a wide range of diverse sellers.

That created a situation where Fanfare, a British manga publisher, Davis Marketing, selling high-end Thunderbirds die-cast replicas, and a swords booth could all be doing well on Friday in consecutive slots in aisle 700, a long way from the nearest glitzy booth.


A comic retailer who was selling primarily Silver Age comics in a 10x10 booth gave as good an explanation as any of why his sales went up when it looked like the action was all in the videogame and movie booths.

'For every 20,000 people the show adds, 3,000 of them might be interested in what I have, and some of those find my booth and buy from me,' he said.


San Diego Comic-Con will not announce attendance for this year's show for some time, but it has to be more than last year's 123,000 (up from 104,000 the year before, see 'San Diego Comic-Con a Hot Time'), because there were three sell-out days this year vs. none last year.

We've heard that the show was prepared for as many as 160,000 attendees, and would not be surprised at anything north of 140,000.


The show has now reached the capacity of its venue, and will have to add days, move more events or show features out of the convention center, or simply live with leaving some disappointed fans outside each year.

We heard a story of a fan in a heavy black costume talking to a convention center employ just before the sold-out show opened on Friday:

'You mean I can't get in at all?'