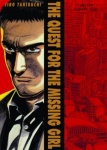 Fanfare/Ponent Mon has an ambitious slate of sophisticated manga releases set for the next six months, a list that mirrors the sort of books that have gotten the publisher two Eisner nominations this year. Jiro Taniguchi, who earned Fanfare an Eisner nod for his Walking Man manga (and certainly deserves to add an Eisner Award to his collection, which includes The Osamu Tezuka Culture Award, the Shogakukan Prize, and the Alph'Art Award from the International Comics festival in Angouleme), is represented by two volumes on the Fanfare/Ponent Mon schedule, The Ice Wanderer and Other Stories (due out this fall) and The Quest for the Missing Girl (set for early 2008).
The Ice Wanderer and Other Stories, which is listed in the current edition of Diamond's Previews, is a collection that pits man against nature in a series of realistic conflicts that is filled with respect for animal life and is just about as perfect an example of gekiga ('realistic, serious manga) as one would ever want. The conflicts in the The Quest for the Missing Girl are strictly human vs. human and are set in the urban jungle, but Taniguchi's approach in this hardboiled saga is just as powerfully rendered and carefully observed.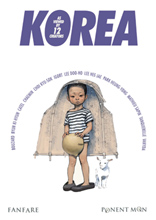 Fanfare/Ponent Mon is not just the leading English language publisher (along with Drawn & Quarterly) of gekiga, it is also the prime English outlet for the Japanese/Franco-Belgian collaborative efforts known collectively as La Nouvelle Manga (see 'La Nouvelle Manga'). After earning an Eisner nomination for 'Best Anthology' for Japan as Viewed by 17 Creators, Fanfare is back with Korea, a collective peninsular portrait produced by six Korean and six Franco-Belgian artists.
Fanfare has already published Kan Takahama's collaboration with Frederic Boilet, Mariko Parade (2004) as well as her solo effort Monokuro Kinderbook (2006). Ms. Takahama's latest effort Awabi is her second collection of short stories and provides a clear demonstration of why she is considered one of the most talented manga-ka to emerge in Japan so far this century with a style that is at once robust and yet punctuated with delicate grace notes.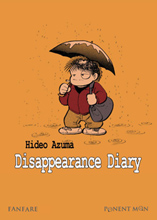 Hideo Azuma's Disappearance Diary is the manga equivalent of the lacerating autobiographical comics that make up a large portion of what is now referred to as 'alternative' or 'underground' comics, but there are some key differences that are evident in this tale of a successful artist who disappears for weeks at a time on alcoholic binges, most notably the humorous elements that author manages to bring out in a situation that just as easily could take on the despairing tones of a Leaving Las Vegas.