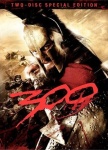 The DVD of Zack Snyder's film of Frank Miller's 300 graphic novel scored a clean sweep in the home video world topping both the sales and rental charts. The 300 DVD sold over seven million units during its first week of release, seven times more than the cop comedy Hot Fuzz, which came in second during its debut week. 300 also topped the HD DVD and Blu-Ray sales charts with the Blu-Ray outselling the HD DVD disk by two-to-one. On the rental side 300 earned $11.9 million dwarfing Hot Fuzz's second best total of $6.4 million.
The release of the 300 DVD also had an immediate effect on sales of the 300 graphic novel, which jumped from #90 to #19 on the BookScan list of graphic novel sales in bookstores within four days of the release of the DVD (300 is by far the best-selling non-manga graphic novel of 2007 in bookstores so far).
300, which is the 8th highest grossing comic book adaptation of all time, is probably the most profitable. Made for just $65 million, it earned $456 million at the box office worldwide (it took in $210 million domestically), and Warner Bros. has probably grossed at least $100 million from the DVD release already. The success of 300 has given comic book-based movies a huge boost; it is the reason that the long-gestating Watchmen project has finally gotten off the ground (with Zack Snyder directing) and a good part of the reason that the optioning of comic book properties continues unabated.
While 300 is too big and too successful to be considered a 'cult' film, Hot Fuzz, which earned under $24 million at the box office, is showing signs of attaining cult status on DVD, with first week sales of over one million units and a first week rental gross equal to more than 25% of its total domestic box office.